Vegetarian Recipe Ideas From 1916
---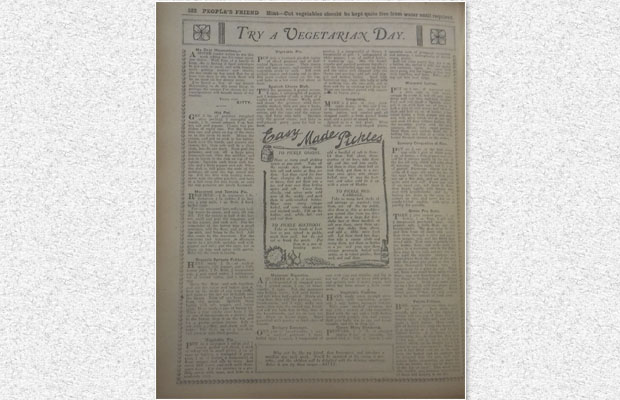 There's been lots in the news lately about eating less meat, for our health, and our environment. Going vegan has been big news, too – remember the vegan sausage roll debate?
Cookery Editor, Kitty, was encouraging "Friend" readers to "Try A Vegetarian Day" way back in 1916! With "butcher meat getting scarcer and dearer" because of the First World War, Kitty's suggestions were cost-conscious, too.
Here are some of her vegetarian recipes.
Brussels Sprouts Fritters
Have ready ¾ lb of cooked sprouts, salt, pepper, and a little lemon juice, ¼ lb flour, ¼ teaspoonful salt, ¼ pint tepid water, 1 tablespoonful of melted butter, and 1 white of egg.
Sieve the flour and salt together, and stir the water and butter into it, beat up the white of egg very stiffly, and quite at the last stir in lightly into the butter. Trim off any loose leaves from the sprouts. Sprinkle them lightly with salt, pepper, and lemon juice. Have ready a pan of frying fat. When a blue smoke rises from it lift up one of the sprouts on a skewer, dip in the butter, drop it on the fat, and fry a pretty golden brown. Lift it out with a slicer, and drain well on paper. Pile them up on a hot dish, and garnish with fried parsley.
Macaroni Bignettes
A quarter of a lb of macaroni, 1 tablespoonful of chopped parsley, 1 grated onion, 5 ozs of breadcrumbs, 2 eggs. Put the macaroni into boiling water; boil until tender; add salt when half-cooked. Strain and chop fine, then add the parsley, onion, breadcrumbs, and 1 egg; make into balls; then take the second egg, break, and roll the balls first in this, then in the breadcrumbs, and fry in very hot fat. Drain on brown paper. Serve garnished with parsley or fried slices of tomato.
Savoury Sausages
One pint of breadcrumbs, 1 pint of mashed potatoes, 2 hard-boiled eggs, I onion, I teaspoonful of parsley, ½ a teaspoonful of thyme, 1 teaspoonful of salt, 1 saltspoonful of white pepper, 1 oz of melted butter, 1 beaten-up egg. Mix the breadcrumbs and mashed potatoes together; add the hard-boiled eggs cut up finely, and the onion well chopped with the thyme and parsley; add salt and pepper and melted butter. Bind with beaten-up egg, shape into balls or rolls of uniform size, dip into milk, roll in flour and fry in smoking hot deep fat. These are excellent served with tomato sauce or brown gravy.
Spanish Cheese Dish
Two lbs potatoes, 2 grated onions, 2 eggs, 1 saltspoonful of pepper, and 1 teaspoonful of salt, a third of a cupful of grated cheese. Wash, peel, and steam the potatoes until thoroughly cooked, then put into a basin, mash with fork, mix with the grated onions, add the eggs and the seasoning, and form into balls. Sprinkle with the grated cheese, and bake in well-greased patty pans for half an hour.
Hot Pot
Get 3lbs of potatoes (weighed after peeling), 1 teacupful red lentils, 1 lb onions minced, 3oz butter, salt and pepper. Choose two pie-dishes of equal size. Put the butter into one, and place on top of the stove or in the oven to melt. Mince the onions, and put to cook in the butter. Look over the lentils, and remove any stones, &c, then rub well in a clean cloth, but do not wash. Next peel the potatoes, and cut off a large piece from each end. Slice the middles, and put in layers in the dish on top of the onions. Sprinkle each layer with lentils, and a little pepper and salt. When the dish is full place the ends of the potatoes all over the top, round side up. Fill the dish with boiling water, cover with the other pie-dish, and bake in a hot oven for two hours, or until the top potatoes are nicely browned.
Looking for more kitchen inspiration? Visit our cookery pages!