Hand Of Friendship: Adopt A Book Bus
---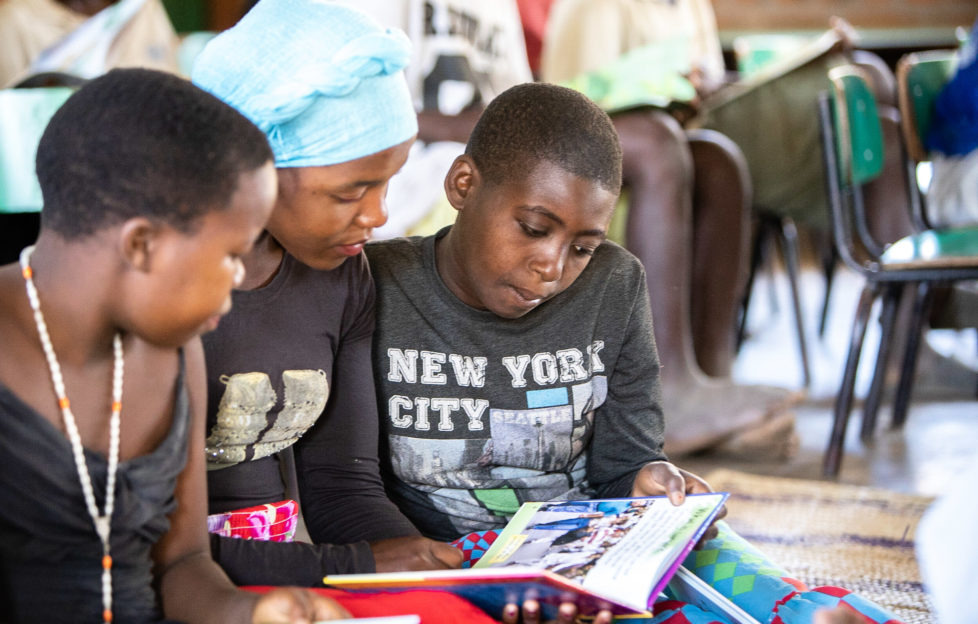 Photograph by Adam Dickens.
This year's Hand Of Friendship campaign is in support of the Book Bus, a charity founded to improve child literacy levels in Africa and South America.
But what made us choose this charity in particular?
Well, reading is obviously at the very heart of what we do here at the "Friend". We're more than aware of the power it has, and the joy that it can give you.
The whole team were voracious readers as children, so having the chance to help others have that same experience — and that same enjoyment — really struck a chord with us.
A simple idea, but one that makes a huge difference
"Reading is one of my great pleasures in life," Editor Angela says. "But for too many children across the world, settling down with a good book is simply unheard of, because they don't have access to even the most basic reading materials.
"The Book Bus charity aims to change all that by taking books directly to children in Africa on board its beautifully decorated buses.
"It's such a simple idea, but one that makes a huge difference to the lives of the people it helps.
"I'm delighted to welcome the Book Bus as this year's Hand of Friendship partner, and I know that "Friend" readers everywhere will give their generous support to this very good cause."
Opening a door to the future
Sir Quentin Blake is a renowned illustrator and children's writer, best known for illustrating books written by Roald Dahl. He is also the Patron of the Book Bus Foundation.
"The Book Bus provides much more than just literacy – it's opening a door to the future in an incredible way.
"Once you ignite curiosity – well, that's like a machine that creates its own energy, and if you can get books to these children, sit with them, talk to them, read with them and develop that enthusiasm for reading, then you really don't know what wonders that will lead to in the future.
"I'm so proud of the work the Book Bus does and I'm deeply touched to be involved with this wonderful project."
Adopt a Book Bus
The Book Buses themselves are the charity's international flagships.
Each is an ambassador for its cause, and together they bring joy and delight to thousands of children.
You can adopt a Book Bus for yourself, or as a gift for a book lover, from as little as £5 a month for 12 months.
Your gift will mean a new generation of children can be introduced to the wonders of reading.
You can find out more about the Book Bus fleet by visiting the Book Bus website.
Follow the link, decide which bus you'd like to fund and click through to complete your adoption, and we'll send you your adoption pack.
What is in your book bus adoption pack?
A beautiful adoption certificate illustrated by Sir Quentin Blake
A special "hello" from your adopted Book Bus
More information about the work of the buses in Ecuador, Malawi and Zambia
Make a donation
If you would like to send a donation by post, please make your cheque payable to the Book Bus Foundation and send it to: The Book Bus Foundation, 11 The Orchard, Montpelier Road, London, W5 2QW.
You can contact the Book Bus with any queries by telephone on 020 8099 9280, or by email to info@thebookbus.org.
For more about the Book Bus, click the tag below.