Hand Of Friendship: Book Bus And "I Am A Reader"
---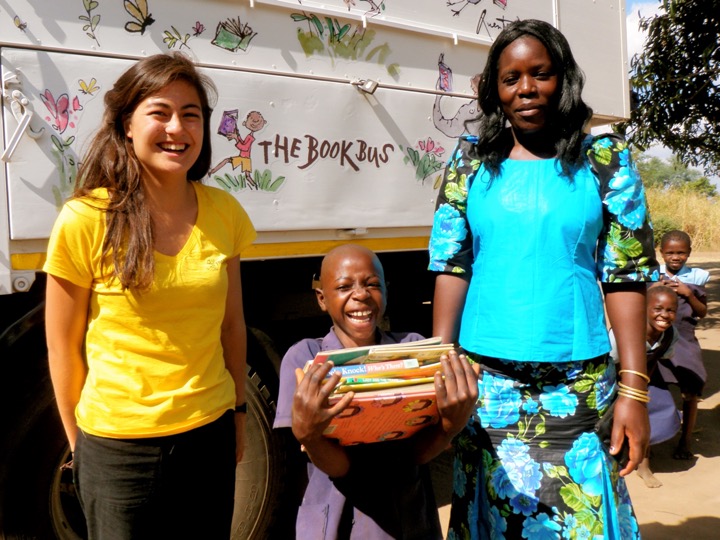 Photographs by Adam Dickens.
David Gordon, is the CEO of the Book Bus, our 2019 Hand Of Friendship partner.
Here, he looks at the difference the charity is already making to literacy levels in Zambia.
---
Bianca, aged twelve, is a pupil at Greater Joy Community School in Kitwe, Zambia. She just loves to read.
Sadly, many children in Zambia are unable to share Bianca's joy of reading. For them, the educational reality is pretty grim.
Books are scarce. Few schools have library facilities, and even textbooks are a rare sight in the classrooms. In some cases one textbook between 50 children is the norm!
Class sizes often exceed 80 children per teacher, and teaching by rote is the most common form of education. As a result, literacy, numeracy and creative-thinking levels are correspondingly low.
The reason why Bianca and her classmates can read so well is because their school enrolled on to the Book Bus "I Am A Reader" project.
Their teachers received specialised training at our literacy workshops. The school received classroom libraries, and the pupils received extra mentoring by Book Bus staff.
Literacy levels at Greater Joy Community School are now amongst the highest in the district. The children are achieving top marks in all their subjects.
The "I Am A Reader" project
The Book Bus "I Am A Reader" project launched as a pilot project in 2017. It aims to benefit 10,000 children in Zambia and Malawi by the end of 2020.
Packed with books, our buses feature eye-catching and inspiring artwork by renowned illustrator Sir Quentin Blake. A visit captures the imagination of children and parents alike.
They provide a happy, stimulating and safe environment where children can discover the joy of reading for the first time.
It's crucial that teachers feel enthusiastic about these visits, too. When this happens, the community is inspired to commit more time and resources to literacy.
The Book Bus fleet
Thanks to the generous support of donors and funders, we now have a fleet of six Book Buses. We've named them George, Charlie, Sophie, Matilda, Alfie and Tiger.
Each Book Bus supports a cluster of around 20 local schools, visiting each school every two weeks.
We know that children won't read books unless they can pick them up and get excited about them. That's why we work with schools to create colourful reading corners and libraries in classrooms.
We decorate these with examples of children's work, wall charts and imaginative posters about the alphabet, books and fictional characters.
In 2017 and 2018 we created 42 classroom libraries in Zambia. Our community libraries there and in Malawi were visited more than 60,000 times over the same period.
---
For more on Book Bus, including details on how to donate, click the tag below.
For more information on our Hand Of Friendship campaign, including our work with previous partners, click here.