Editor's Diary: Bringing History To Life
---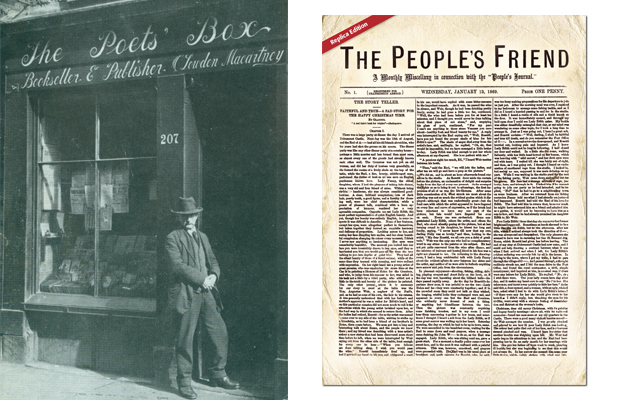 Shop owner Lowden McArtney stands outside the Poet's Box at 207 Overgate, Dundee c.1920 Photographs by Libraries, Leisure & Culture Dundee
The 150th anniversary year of the "Friend" may be nearing its end. But as this week's Editor's Diary shows, there is still lots to celebrate!
And I am always on the lookout for new opportunities. As you know, I am passionate about promoting the "Friend".
This week, I read about a fabulous pop-up shop being run by Dundee Central Library as part of the Being Human Festival.
The UK-wide festival runs from November 14-23 across multiple cities and features a host of free events.
The one that caught my eye is the recreation of a shop called the Poet's Box. The modern version is in Dundee's Wellgate centre. However, the original, which opened in the 1870s, was located in various premises in the city's Overgate area.
It was a meeting place for Dundee's aspiring poets and writers from the Victorian period right up until 1946. It had a hand-operated printing press and stacks of poetry books and song sheets, and was the place to come if you were an aspiring poet looking to publish your work.
Writers, singers and performers keen to share their latest efforts crowded the shop every weekend.
A meeting place for writers
Of course, that really caught my attention! Imagine how many "Friend" contributors of the past were regulars at the Poet's Box . . .
Perhaps our own William C. Honeyman was often there?
In the modern Poet's Box, visitors can use a hand-operated letter press, create "found" poems from newspapers and magazines and try composing new work of their own. Sounds like fun!
Of course, I was keen for the "Friend" to be involved.
With my colleague Alice, I met historian Dr Erin Farley to discuss what we could do.
We created artwork for the walls which shows the role of the "Friend" in Dundee's publishing history.
We also supplied the Poet's Box with lots of replica first issues of the "Friend".
These are for giving out to visitors, so head down to the Wellgate in Dundee to pick yours up!
To read more from Angela's Editor's Diary, click the tag below.