Editor's Diary Extra — The PPA Awards
---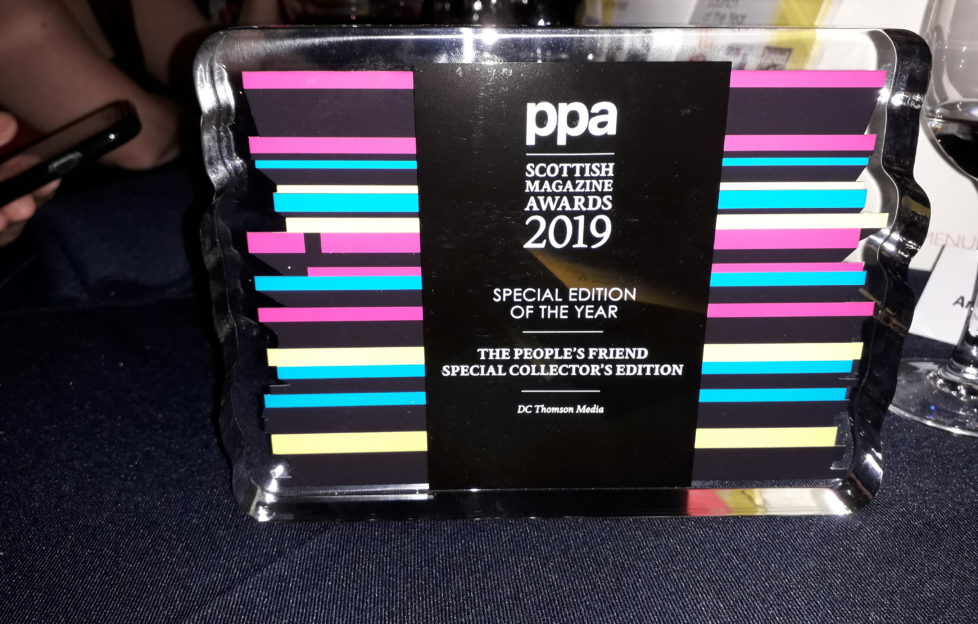 Photograph by Angela Gilchrist.
Yes, I know – you've already had an Editor's Diary post from me this week. So let's call this one an Editor's Diary Extra!
I have good news, and I wanted to share it with you right away . . .
Last night, Fiction Ed Shirley and I attended a glitzy awards ceremony in Edinburgh. It was the PPA (Professional Publishers Association) Scottish Magazine Awards 2019.
There we were, in all our finery, enjoying a swish three-course meal in the beautiful Hub on the Royal Mile.
Our host was TV and radio star Des Clarke, who was charming and very funny. TV news presenter Jackie Bird was also there.
And guess what? The "Friend" only went and won an award!
Yes, our 150th Anniversary Special Collector's Edition is now officially the Special Edition of the Year!
We are very proud.
And if you haven't bought a copy yet, there are still a limited number available to buy.
Now it's an award-winner, though, they're bound to go quickly!
For more from Angela's Editor's Diary, click the tag below.
We have had a great time this year celebrating our 150th anniversary. Click here to take a look at what we've been up to!
Keep an eye out on our Team blog for news from our recent Warner Leisure Hotels break in Cricket St Thomas. It proved to be a real success, and it was great to meet so many lovely (and dedicated!) readers.
Lucy and Alan from the Fiction team will be happy to fill you in once they're back!