Writing Prompt Story Starter: Giant Sequoia
---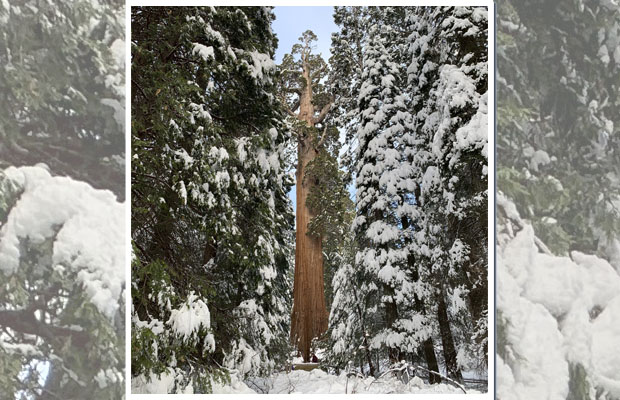 Photograph by Sarah Holliday.
Firstly in this story starter, a question: do you remember Ladybird books?
I loved them when I was little. "Beauty And The Beast", "The Musicians Of Bremen", "The Princess And The Frog", "The Magic Porridge Pot" . . . classic stories, accompanied by memorable artwork.
Some were non-fiction; one I particularly remember had an image of an enormous tree with a space cut out at the bottom, big enough for cars to drive through.
It's a number of years ago now, but I remember the tree in question was either a giant sequoia or a giant redwood. The trees are similar, but not quite the same.
The giant sequoia is the world's biggest tree by volume, the redwood the tallest (at 380 feet, "Hyperion" is reckoned to be tallest of all).
"General Sherman" is the world's largest known single stem tree anywhere on earth.
Measured at 274 feet tall (83 metres), it's estimated to be around 2,200 years old.
And here it is, as photographed by our very own Sarah, former Illustrations Editor and now part of our team of "Friend" illustrators. She sent this pic to the Fiction team from the USA this week.
The ideas
So there are a number of ideas within this week's Story Starter.
Fond memories of books; children's books you cherished; learning to read.
The power of images — I must have seen the picture of the tree for the first time when I was around six or seven, but I can still picture it clearly.
Or weathering the storm? It was snowy on the day Sarah snapped this image, as you can see!
Trees. Nature. Giants. Very old things. Things which are similar, yet not quite the same.
Yearning to travel. Dreams you hope one day may come true.
North America. Friends moving on and travelling. The ability we have now to send and receive images from all over the world in seconds . . .
That's definitely something we didn't have in the 70s!
Click here to look through our back catalogue of Story Starters.