Pork Meatballs With Home-made Baked Beans
---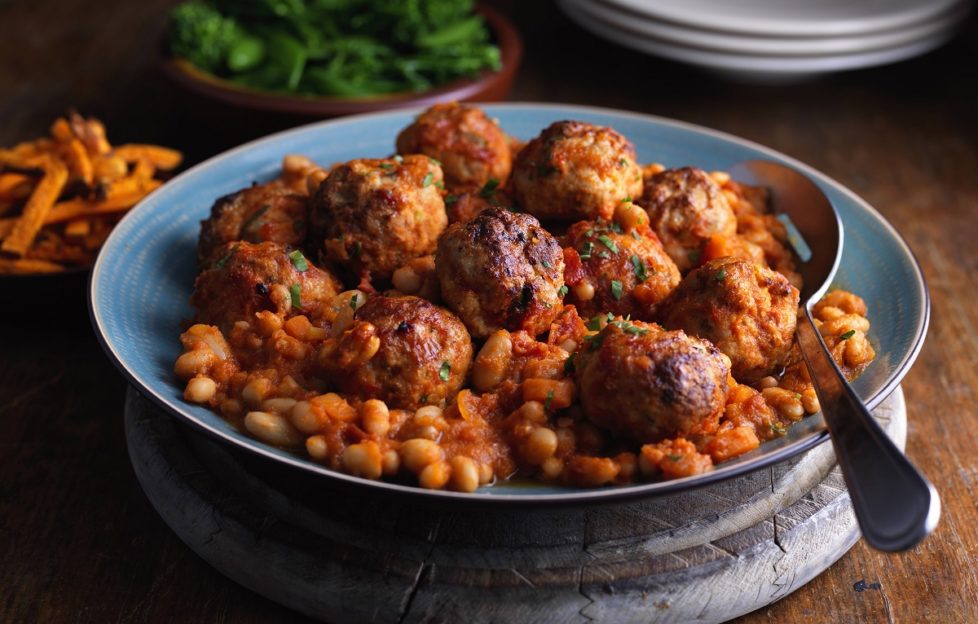 Image courtesy of Bacofoil.
Ingredients
1 tsp butter
4 spring onions, sliced finely
500 g (1 lb 2 oz) lean pork mince
1 egg
A few sprigs fresh thyme, leaves only
Salt and freshly ground black pepper, to taste
4 tbs fresh white breadcrumbs
For the Baked Beans:
2 tsp olive oil
1 small onion, sliced
1 carrot, diced
1 clove garlic, chopped
½ tsp paprika
1 x 400 g tin chopped tomatoes
2 tbs tomato ketchup
1 tbs honey
1 tbs wine or cider vinegar
2 x 400 g tins haricot or cannellini beans (or mixed beans) in water, drained and rinsed
To Garnish: a few sprigs of fresh parsley, chopped.
To Serve: potato wedges; steamed green vegetables.
Recipe courtesy of Bacofoil.
Meatballs are a staple of any family meal plan. But home-made beaked beans?
Hear us out! They may take a little longer to prepare than the kind that comes in a can, but you won't regret it.
Follow the steps below and enjoy.
Method:
To make the meatballs, first melt the butter in a pan and gently fry the spring onions over a low heat for 1 to 2 minutes, until just soft but not brown. Then set aside.

Tip the pork mince into a large bowl and add the egg and thyme

Season with salt and pepper.

Mix the ingredients together using clean hands, then add the breadcrumbs and spring onions and mix thoroughly. Leave to rest for about 10 minutes.

Meanwhile, pre-heat the oven to 170 deg. C., 325 deg. F., Gas Mark 3 and line a deep baking tray with Bacofoil® The Non-Stick Kitchen Foil.

Shape the meat mixture into 12 evenly sized balls and bake in the pre-heated oven for 15 minutes, until just starting to go golden brown but not quite cooked.

While the meatballs are cooking, you can make the baked beans. Heat the oil in a saucepan and fry the onion and carrot over a medium-low heat for 10 to 15 minutes until they soften, then add the garlic and paprika. Fry for a further minute.

Stir in the chopped tomatoes, ketchup, honey and vinegar and bring to a gentle simmer for 15 minutes.

Add 100 ml (3½ fl oz) cold water then use a stick blender to purée the sauce roughly, leaving a few chunky pieces depending on how you like it.

Add the beans to the sauce mixture, then tip the contents of the pan into the baking tray with the meatballs.

Cook uncovered for a further 15 minutes, until the sauce has thickened and the meatballs are completely cooked through. Sprinkle over some chopped parsley to finish off the dish.

Serve with potato wedges and some steamed green vegetables for a deliciously warming and satisfying meal.
Sounds like just what we need right now!
For more recipes from "The People's Friend", click here.