Winnie Mabaso Grannies Go To The Seaside
---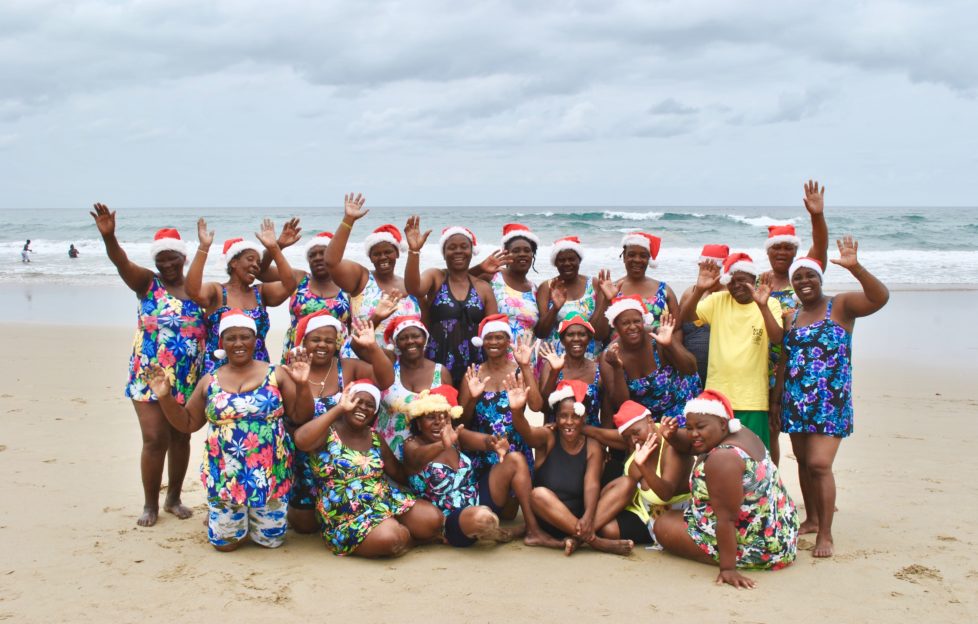 Photograph by Lisa Ashton.
It's been several years since we launched our Hand of Friendship campaign in support of the Winnie Mabaso Foundation, but "Friend" readers continue to show quite simply stunning levels of generosity towards this very good cause.
Winnie Mabaso founder Lisa Ashton has put together an update for us on the charity's wonderful Granny Club, which so many "Friend" readers support.
---
Last December I promised to update you on our Granny Trip to the seaside, and here it is!
Our Granny Club meets every Wednesday on the informal settlement of Meriting in Johannesburg.
Our grannies live in very simple shack dwellings with no running water and shared, outside chemical toilets.
Many of them are bringing up their grandchildren as their own children have passed away, so our Wednesday gatherings are very important to them.
It is a time when they can forget about their hardships and enjoy a cup of tea and a slice of cake or a home-cooked lunch with their friends.
Some Wednesdays we arrange days out for them. They have had swimming lessons, been on safari and even enjoyed a visit to the ballet!
Other weeks we have guest speakers or arts and crafts classes, and sometimes we pamper them with a manicure, pedicure or hair wash.
We have 25 grannies in total and one gatecrashing grandpa, whom we all adore, called Papa.
Screams of delight
During one of our Granny Club gatherings they told me that they had never been to the ocean, and it was a big dream for them.
I put the wheels in motion to raise the funds to enable this to happen. I cannot begin to tell you how excited they all were when I told them we had enough money and we were going on holiday for a whole week!
Their screams of delight will stay with me forever.
Not only had they never seen the ocean, but they had never been on holiday before, either.
The day of our departure finally arrived and we all climbed aboard the coach to head for Port Edward, a seaside resort on the east coast of South Africa. The journey took almost 11 hours but the grannies sang virtually all the way! They were so excited.
We stayed at a place called Teen Ranch. It's usually a place where school groups stay, but they made an exception for us and we all shared bunk rooms. Fortunately there were enough beds so nobody had to climb on to the top bunks!
During our week away we arranged lots of treats for our grannies.
We took them to visit a crocodile and reptile farm and a coffee plantation. We played crazy golf and had barbecues and enjoyed singing and dancing around a campfire.
But the highlight, of course, was when we went to the beach for the very first time.
I shed tears of joy
As we walked across the sand, the grannies all held hands in a long line and ran into the sea. They were splashing each other and rolling around in the ocean like they were children again.
I shed tears of joy to see them having so much fun. It truly was a time when dreams came true.
The ocean is very important in African culture. They believe that the sea has many healing properties to protect against illness and also to cure sickness.
They also believe in its spiritual powers. Many of the grannies collected seawater in plastic bottles, which they will place these bottles around the corners of their homes to keep them safe.
Thank you
Thank you to all of you who sent donations towards our holiday.
Thanks to you, we were able to buy the grannies lots of treats like ice creams and cold drinks, and your contributions also really helped us to pay for the days out.
On the final night we sat around the campfire and talked about our favourite moments.
Dorothy made my heart melt when she said that the highlight for her was knowing that she was loved so much by friends in the UK, whom she had never met, but who had given her memories to last a lifetime.
The holiday put a spring back in our grannies' steps. They still talk about the trip all the time and are asking me if we can make it an annual event. Wouldn't that be nice?
I hope you have enjoyed reading about our adventures. And if you would like to help us make this an annual treat for our grannies then we would be delighted to hear from you.
Thank you, as always, for being part of our big international family.
As always in Mabaso love,
Lisa
How you can help
The Foundation requires donations to fund its projects and vital work. You can donate:
By cheque: Please make cheques payable to the Winnie Mabaso Foundation, 78 North Road, Glossop, Derbyshire SK13 7AU.
You can also contact Lisa by phone: 01457 891498 or by e-mail: lisa@winniemabaso.org
---
For more updates from our Hand Of Friendship campaign partners, click here.
For more information on the charities supported by "The People's Friend", click here.