Veggie Brioche Bun Hot Dog With Chilli Jam And Fried Onions
---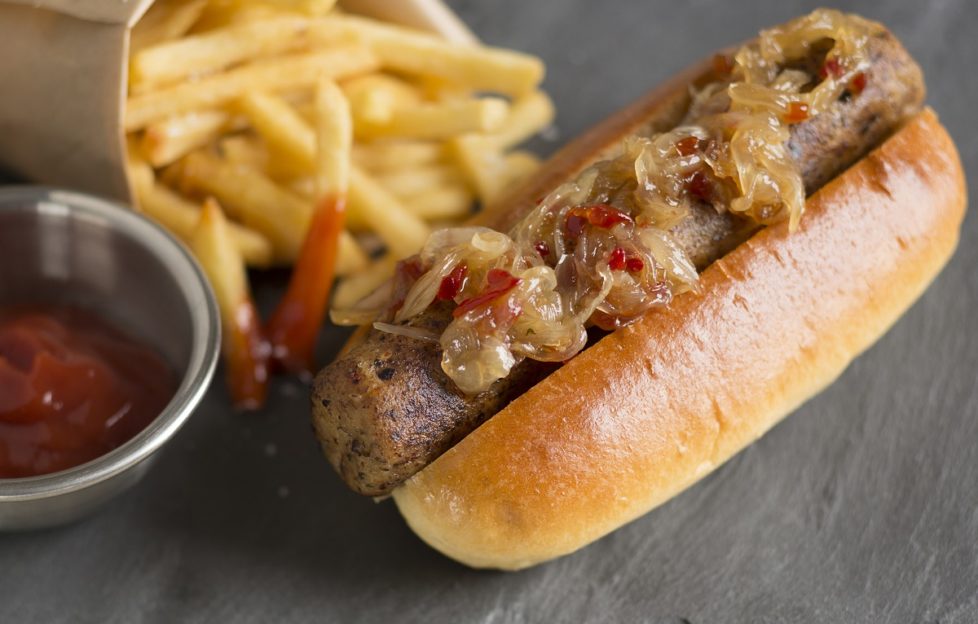 Image courtesy of Heck Food.
Ingredients
1 tbs vegetable oil
2 white onions
2 to 3 tbs chilli jam
4 HECK Vegfurters
4 brioche hot dog buns
To Serve: French fries; ketchup.
Recipe courtesy of Heck Food.
Over in the United States, today is National Hot Dog Day. And with the temperature in these parts tending more towards barbecue weather (mostly!), we thought we'd share this delicious vegetarian recipe!
Method:
Pre-heat the grill to medium.

Gently heat the oil in a saucepan.

Finely slice the onions and add to the pan. Cook on a low/medium heat for 10 to 15 minutes until nicely golden but not brown. When you think the onions are nearly ready, add the chilli jam and mix thoroughly, and continue cooking for another minute or so.

Meanwhile, place the sausages under the pre-heated grill and cook for 10 to 12 minutes, turning frequently.

Slice the hot dog buns, add the hot dogs and place a big spoonful of the chilli jam onions on top of each sausage. Serve with a nice dollop of ketchup and your favourite fries.
Click here for more great recipes from "The People's Friend". If it's good barbecue food you're looking for, why not try these Beef And Red Pepper Burgers? These Proper Piri Piri Chicken Burgers are worth a try, too!
If you can't get to the shops just now for your "Friend", subscribe now by clicking here. It means your magazine will come straight to your door every week — all you have to do is put the kettle on!
You can also take out a digital subscription, meaning your issue will come straight to your computer, tablet or phone! And it's great value for money. Click here for more details.