Lockdown Ingenuity And Socially Distanced Drinks
---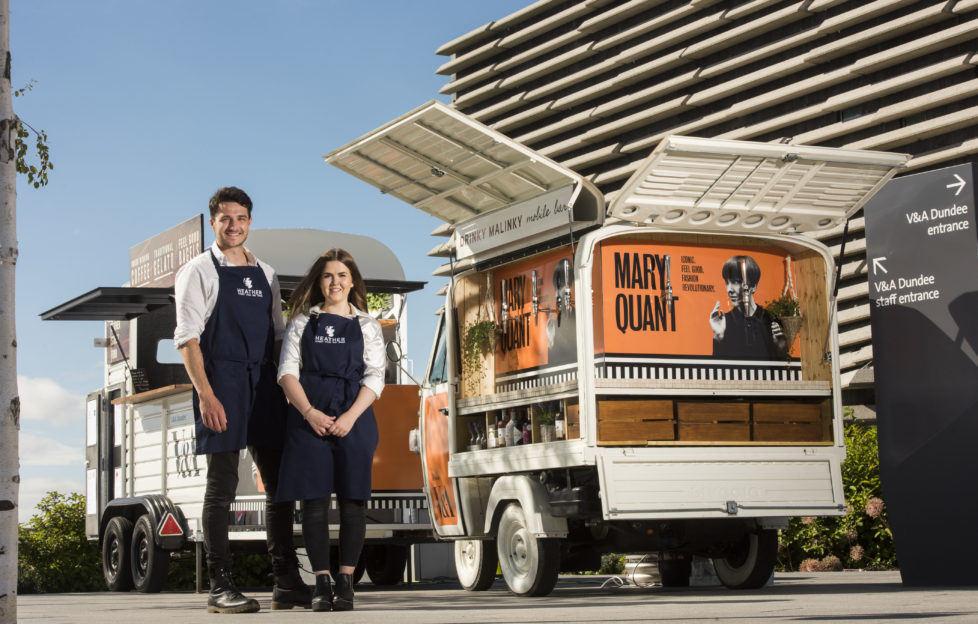 Photograph by Alan Richardson, courtesy of V&A Dundee.
Mrs Digital Ed and I went for a lockdown walk along Dundee's waterfront earlier this week, and discovered a wee gem next to the spectacular V&A Museum.
It's this pop-up bar and food truck, which is now serving locally sourced food and drinks to passers-by.
Heather Street Food has even wrapped their three-wheel three-wheeled Piaggio van and converted horse box in promotional material for the museum's upcoming Mary Quant exhibition.
It's the perfect partnership (especially while the weather is still holding up!)
Like most other visitor attractions, the museum closed to visitors at the beginning of lockdown.
And the Heather team unfortunately found themselves without any of their usual business at weddings and music events.
"Although we're based in Dundee, we were expecting to be out on the road setting up at music and food festivals, weddings and parties this summer," co-founder Chris says.
"When the majority of our bookings were cancelled, we had to completely adapt our business.
"We've kept busy with home deliveries and getting involved with our local community. But now we're delighted to be back in business.
"We couldn't think of a more inspiring place to be based right now."
It was nice to see local business supporting one another through the difficult lockdown period.
It was also nice to have a sneaky pint at a safe social distance. And the cups are fully compostable, too!
We'll certainly be back when the V&A opens again on August 27 . . . but there may be a few sunny days in between when we pop by to see the Heather team . . .
For more from the team, read our blog here.