"Close-knit Friends": Meet Yarn-Bomber Emma
---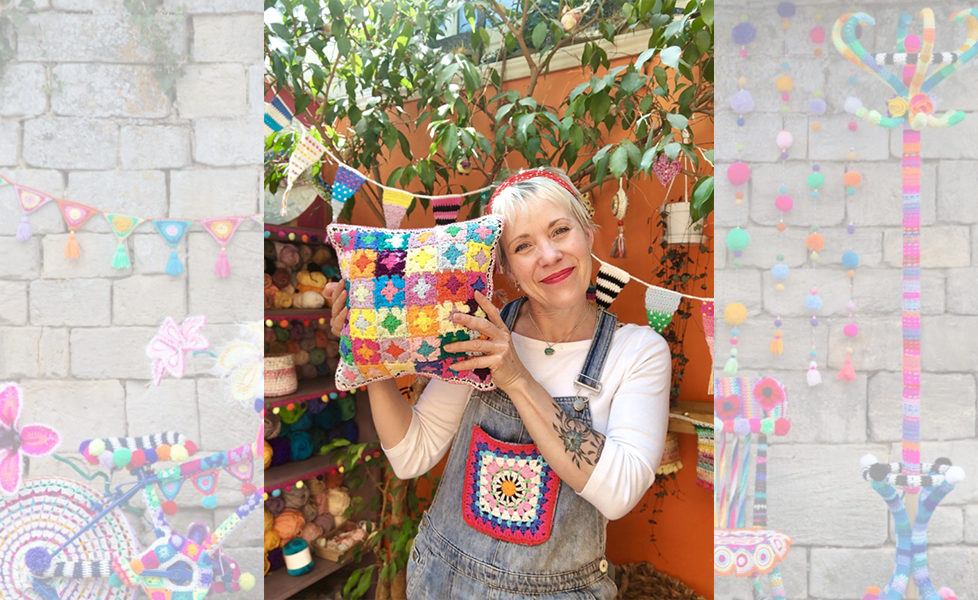 Photographs courtesy of Emma Leith.
Our "Close-knit Friends" campaign aims to bring the spirit of  "The People's Friend" to you, as we tour across the UK in a bus.
But not just any bus – this one will be covered in yarn patterns created by textile artist Emma Leith, our wonderful readers and other UK crafters!
Emma is an expert at "yarn bombing". That's the art of covering street furniture or public spaces with bright knitted or crocheted patterns.
Emma's part of a joint effort between the "Friend", Stagecoach and Re-engage (formerly Contact The Elderly) to take our bus across the country to raise a smile and deliver free copies of the magazine to anyone who pays it a visit.
"I got into crochet properly about eight years ago and it all started happening for me when I did a yarn bomb for my local Peacock Art Trail advertising the fact that it was happening.
"That got picked up by a bigger company in Bath and they asked me to do a yarn bomb for their event!"
Demand for Emma's work snowballed after the public saw the finished articles across the city.
A way of bringing people together
As much as the results of Emma's work are for the enjoyment of the community, she loves that the projects involve communities right from the off – just as the "Close-knit Friends" bus will do with our readers.
"I've always enlisted the help of lots and lots of local people.
"We've always worked on these projects together and they've become community events.
"It's never just about creating a display – it's about the people behind it and the friendships that form.
"The group that I formed way back then still goes on today and it goes on without me now.
"So, for me, that's what yarn bombing became – this way of bringing people together."
This project has seen Emma work with a team of four, and crafters who have been able to knit or crochet their own triangle of bunting using patterns available on our website. Emma will then add these together to cover parts of the bus in addition to her own work.
"So with this particular project we've dedicated a space to display all the contributions.
"I wanted them to make triangles that we're going to stick on in addition to the display.
Emma already had a few design ideas in mind when we spoke to her in early August, but we won't spoil the surprise!
I want to get people's attention
One thing she does plan on doing is avoiding anything with stripes, as it can look painted rather than knitted.
"We're doing the triangles because then visually you will know it's been knitted or crocheted for sure.
"That's what I want – I want to get people's attention when they see it and go, 'Oh, my goodness! There's no doubt that it's covered in wool!'"
With previous projects, including all kinds of street furniture, could the bus be one of the bigger challenges Emma's faced?
"I've always wanted to do a bus! I wanted to do the interior as well, but obviously we can't do that with COVID.
"The exterior of a modern bus is actually the biggest challenge I've ever had because the bus needs to move.
The biggest challenge
"If the bus was stationary in a shopping precinct, it wouldn't be a problem, but we have to consider all the moving parts, the visibility for the driver and also any parts that are ventilating or heating up."
There are spots on the bus that need to remain uncovered for safety reasons, but that's not been the biggest challenge for Emma.
"We have to think how we can attach the piece to a potentially smooth surface – there's nothing to tie it on to.
"That's the biggest challenge and we haven't overcome it entirely, but I think we have the solution.
"At first, we thought magnets were going to work, but it turns out that the buses aren't made of magnetic metal.
"Honestly, this is the thing I've lost sleep over – every night I think, how are we going to do this?
"We couldn't do Velcro, either, because we don't want to damage the paint.
"Turns out that the way we think we're going to do it is to get a thousand suction hooks and stick them on. That's our plan!"
That's why I like doing it!
Emma's making the covering in bits, rather than having one big "jumper" over the whole thing that could easily catch the wind.
Emma's experience with these projects is invaluable, and one of the lessons she's learned over the years is that the final fitting always takes longer than you think.
She is prepared for the day of installation to be both the biggest challenge and the most satisfying of the project.
We can't wait to see the "Close-knit Friends" bus on its travels, and we hope you'll pop along if it's near you and say hello.
You can even nominate a street for us to visit by emailing closeknitfriends@dctmedia.co.uk.
We know it's going to provide a colourful and cheerful few moments to lift everyone's spirits towards the end of a tough year.
"The thing with yarn bombing is the charm that it has.
"What we're doing is we're taking an urban bit of furniture that has no intricate charm in itself and covering it with something that is extremely familiar and has a real tactile quality to it.
"If it's a steel structure installation, for example, you're more likely to stand back and think I'm not sure what I'm looking at, but a yarn bomb says, 'Come closer; have a look!'
"It's a way of getting people to look at something that goes past every day with fresh eyes.
"It's a beautiful thing to do. That's why I like doing it!"
---
For more on our "Close-knit Friends" campaign, click the tag below.
Read more about the charities supported by "The People's Friend" by clicking here.