Writing Prompt Story Starter: Changing Seasons
---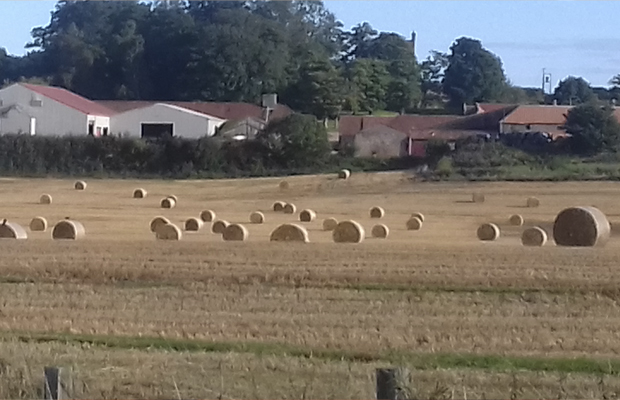 Photograph by Lucy Crichton.
It's a very practical story starter this week.
Harvest is in full swing in our little corner of Scotland at the minute.
I passed these bales last weekend, on the way home from a trip over to Fife.
Which got me thinking about the passing of the seasons.
One season gently rolling into another. The rhythm of the year. Making hay while the sun shines.
How can this help your writing this week?
If you're finding it difficult to get your story-writing started, some structure could help.
Consider when you've set your story. Spring, summer, autumn, or winter?
Lambing season? A warm, summer's evening? A crisp, autumn morning? Snow falling, on a winter's day?
Perhaps it's set in all those seasons, over the course of a year?
Or perhaps it's set on a particular day in one of those seasons?
We're always happy to consider stories with a definite date. Some which spring to mind which I've read lately are: Remembrance Day, All Saints Day (November 1st), Mother's (and Father's) Day, Easter. Valentine's Day and Advent. Summer holidays, and Hallowe'en.
Have a look at dates throughout the year. "Friend" fiction is all about the reader, so which dates would be meaningful to them?
Choosing an event to set your story against could help give you focus, too.
What about a story set during or around the London Marathon? Or the Trooping of the Colour? Or the Olympics? In the present day, or the past?
As well as writing for your readers, your story needs to fit the templates that are available.
There's more on that here, and here. And look out for an upcoming Fiction Ed's Blog on "Friend" story lengths soon.
Remember that we always allow around 10% either way, too.
Best of luck with your writing this week.
---
Click here to browse our Story Starter pages. You're sure to find plenty of inspiration!