Chicken Roasted With Mediterranean Vegetables
---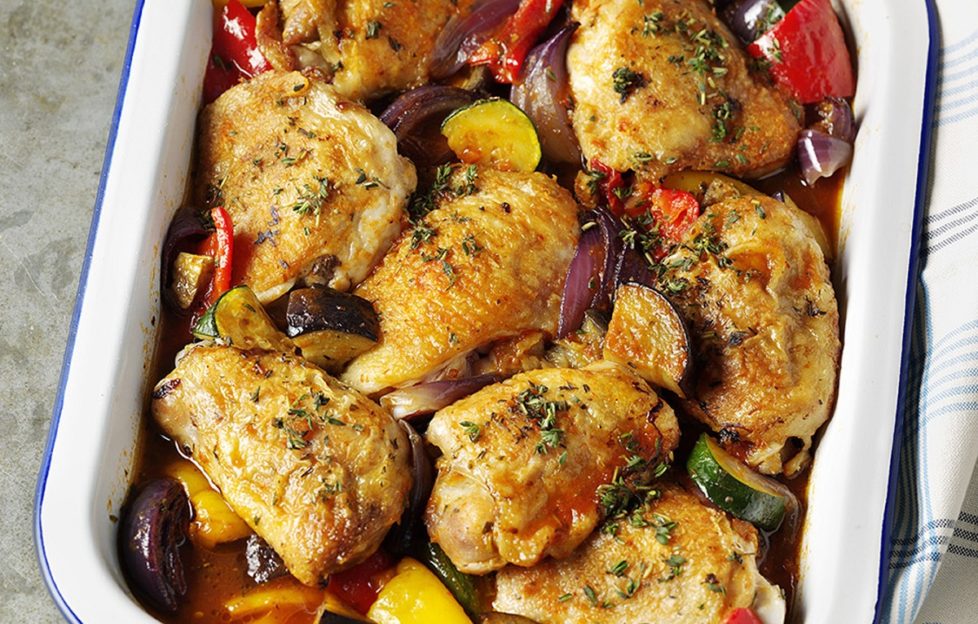 Image courtesy of Kikkoman.
Ingredients
3 tbs olive oil
1 red onion
1 courgette
1 yellow pepper
1 red pepper
1 aubergine
8 chicken thighs
1 tbs chopped fresh thyme
3 tbs Kikkoman Less Salt soy sauce
200 ml (7 fl oz) chicken stock
4 tbs tomato pasta sauce
Recipe courtesy of Kikkoman.
With British Food Fortnight still in full swing, we're sharing yet another delicious recipe for our readers to try at home: Chicken Roasted With Mediterranean Vegetables.
Method:
Pre-heat oven to 180 deg. C., 350 deg. F., Gas Mark 4.

Put the olive oil in a large bowl. Peel and cut the onion into wedges, and trim and chop the courgette into bite-size pieces. Remove stalks from the yellow and red peppers and the aubergine. Deseed the peppers and cut them and the aubergine into small, even-sized chunks.

Add the vegetables to the bowl and stir until they are coated with the oil. Spoon them into a large roasting tin, spreading them out evenly.

Tuck the chicken thighs among the vegetables and sprinkle with the chopped thyme.

Roast the chicken and vegetables for 30 minutes. Turn the vegetables over occasionally so they cook evenly.

Mix together the Kikkoman soy sauce, chicken stock and pasta sauce and pour into the pan over the vegetables and around the chicken pieces. Return to the oven for a further 15 to 20 minutes or until the chicken is cooked through and the vegetables are tender.
With the news that we're all to stay inside for another few weeks, this taste of the Med may be just what you need!
Try it today!
---
Click here for more great recipes from "The People's Friend". If you're all in a flap over chicken this week, you could also try Features Ed Alex's Chicken Paprika.
We have other options with a Mediterranean flavour, too, like this Baked Peppers With Chicken, Rice And Walnuts.
If you can't get to the shops just now for your "Friend", subscribe now by clicking here. It means your magazine will come straight to your door every week — all you have to do is put the kettle on!
You can also take out a digital subscription, meaning your issue will come straight to your computer, tablet or phone! And it's great value for money. Click here for more details.