Writing Prompt Story Starter: Mural
---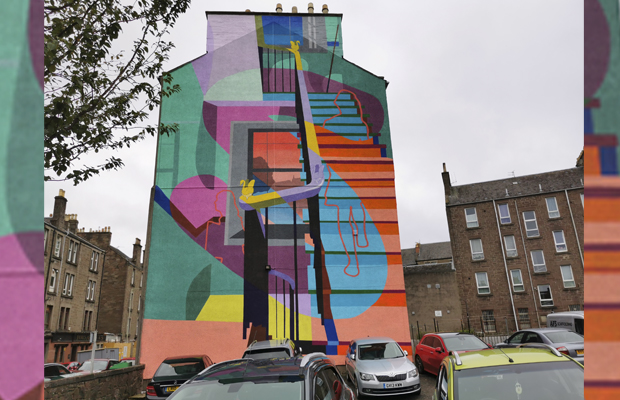 Photograph by Lucy Crichton.
This week's Story Starter is a little arty!
The streets of our little city have been brightened up recently by a series of Street Art Trails, called Open/Close.
These trails are designed to help people explore the city's hidden nooks and crannies.
The most recent addition is this mural in Dundee's Cardean Street. It was completed just last month, by artists Martin McGuinness and Fraser Gray. No mean feat, on a 17-metre high gable end!
I popped round to see it. What do you think?
In the words of the artists, the mural shows "the stairwell of a traditional Dundee close . . . a connection between the family, the home and the community, while at the same time being an artefact of Dundee's past".
Interestingly, another of the works on the same trail is a portrait of Ethel Moorhead, who lived in Dundee from 1901-1911.
Ethel was the first suffragette to be forcibly fed in a Scottish prison. The authorities actually imprisoned several times. And she famously threw an egg at Winston Churchill at a meeting in Dundee!
She was also an accomplished artist, with a studio in the city.
Can this help inspire a story this week?
Street art. Open/Close suggest it "improves the urban environment, cleans up vandalised areas, and encourages the public to take ownership of their public spaces and take pride in their city . . . it actually discourages vandalism as areas with art already in place are far less likely to be targeted".
Transformations. Cleaning up old and neglected areas. Old meets new.
Changing urban areas for the better. Brightening things up. "Rewilding".
At home — redecorating. DIY. And DIY disasters!
Community spirit. Giving time and talent for free.
And Dundee itself, of course — a modern city full of interesting history. The "three J's". And the setting for Annie S Swan's "The Inheritance".
And the home of "The People's Friend" for 151 years. 152 in January!
---
Looking for another Story Starter to inspire your next piece? Click here to take a look through Lucy's back catalogue!