Knitting Preview: October 17, 2020 Issue
---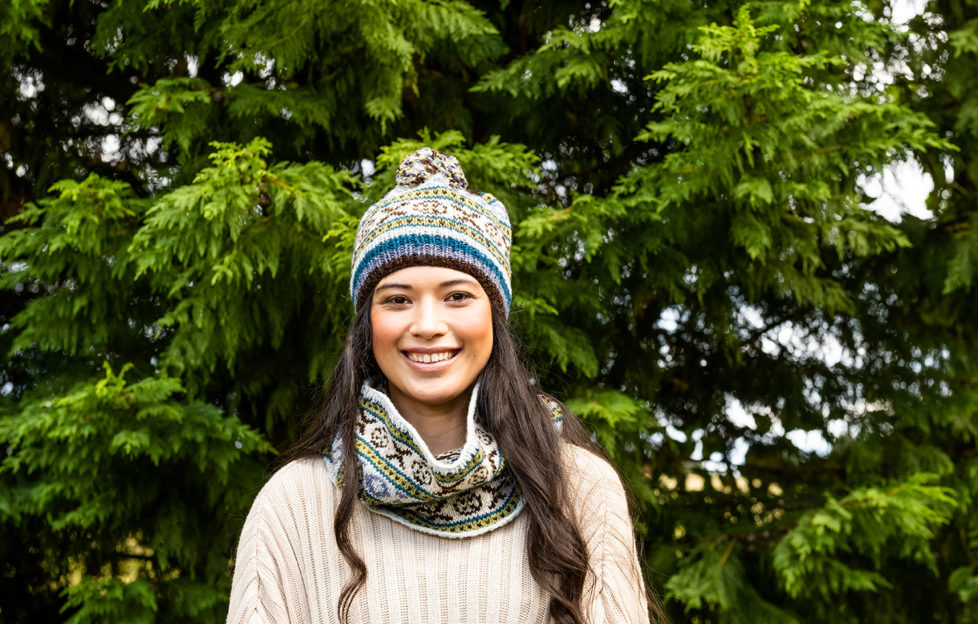 Photograph by Ally Stuart.
We have a great set of accessories for you in this week's knitting preview.
A classic yarn and traditional pattern in modern colours combine to create this bright set of hat and snood. They are the perfect way to beat the chills.
Both hat and snood are worked in Jamieson's Shetland DK 100% Shetland Wool. And we love the wonderfully named shades they're in: Grouse, Twilight, Nighthawk, Eggshell, Granny Smith and Pebble.
Designer Monica Russel has put together a yarn pack with yarn to knit either accessory at a special price and there is the opportunity to buy a signed copy of her book, "Fair Isle Knitting A Practical & Inspirational Guide" also at a special price.
To see more of Monica's work, visit www.theknitknacks.co.uk.
In addition to the yarn, you will also need 3.75 mm (No. 9) and 4.5 mm (No. 7) circular needles (40 – 60 cm long) and set of 4.5 mm double-pointed needles. Both the hat and snood are knitted in the round.
We recommend using the Fair Isle method of knitting. Here, you strand the yarn not in use along the back of the row, and catch it in every few stitches. This creates a tidy finish and means both the hat and snood are very cosy as there is almost another layer behind.
Because of the colour changes and the need to follow a chart, we have graded this set as Advanced.
We are sure you will love our modern twist on a traditional design.
---
Knitting preview piqued your interest? Click here for more great craft content, including DIY face masks and a quick and easy pouffe project.
Or you can subscribe to "The People's Friend" here. That way you'll never miss another one of our great patterns and projects!
A digital subscription means you can download every issue straight to your laptop, tablet or phone. Try it today.