The Magic Of Mosaic Crochet
---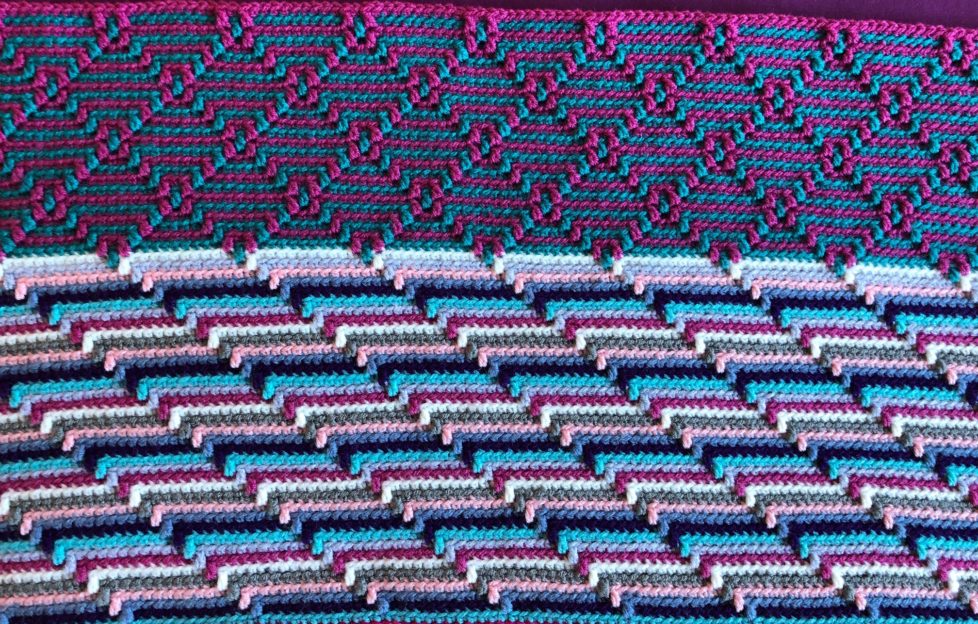 Photograph by Lisa Crow.
I have been interested in crochet for several years, yet somehow the mosaic variation had passed me by – until recently.
A YouTube-recommended video took me to the wonderful world of Tinna Thorudottir Thorvaldar. She has ruined standard crochet for me forever. Mosaic crochet is so easy and yet looks so intricate. So what is it?
The general concept is pretty much the same thing as conventional crochet.
You just need to know four basic stitches: foundation chain, slip stitch, single crochet and double crochet.
Instead of turning your work at the end of each row, you cut the wool, leaving little loose ends. You join your new colour at the start of the next row so that the front of your work always faces you.
I don't know about you but the thing that bothers me about crochet is those pesky loose ends. Given half the chance, I would leave them loose.
Well, Tinna has a way to avoid weaving those in at the end of your project. It's  a real time saver not to mention cutting out tedium. I'll come back to that.
When working multi-coloured patterns traditionally, you work with two or more colours within one row, twisting the yarns around each other. That is fiddly if you're not used to it.
Good news: mosaic crochet uses only one colour per row. It just doesn't look that way to the untrained eye.
Any single crochet stitches are worked into just the back loop of the next stitch. Double crochets are worked into the row below, into the front loop that the single crochets leave open.
Mosaic crochet patterns include easy-to-follow charts, and though the style looks intricate, it is suitable even for absolute beginners.
Double Border
Once the project is complete, the final step is the double border.
After working a row of slip stitch around all four edges, you crochet into the front and back of the slip stitches with as many rows as you choose. Once you have worked the front and the back you sew the edges together.
The loose ends are tucked nicely inside. No-one has to know you didn't sew anything!
That, for me, was a complete game changer. I might be good with a crochet hook but I hate sewing.
My first mosaic crochet project was a baby blanket for my daughter Isla, complete with her name and birthday worked into it. I'm currently working on an adult blanket.
I love it so far – but as it's a king-sized bed blanket, it may be quite some time before it is finished . . .
The mosaic alphabet pattern and the Havana Afghan are available to purchase at ravelry.com.
If you do your own mosaic project, share it with us over on Twitter or on our Facebook page. We'd love to see your results.
To find out more, visit Tinna's YouTube page where she teaches a few patterns.
There is also a Facebook group you can join where people share pictures of their stunning creations.
---
Lisa's been carrying the flag for "Friend" crafters over the past wee while. Click here to see her crochet chameleon, and a cute little owl, too!
Find more craft projects from "The People's Friend" by clicking here.