Lisa's Time Toying With Crochet
---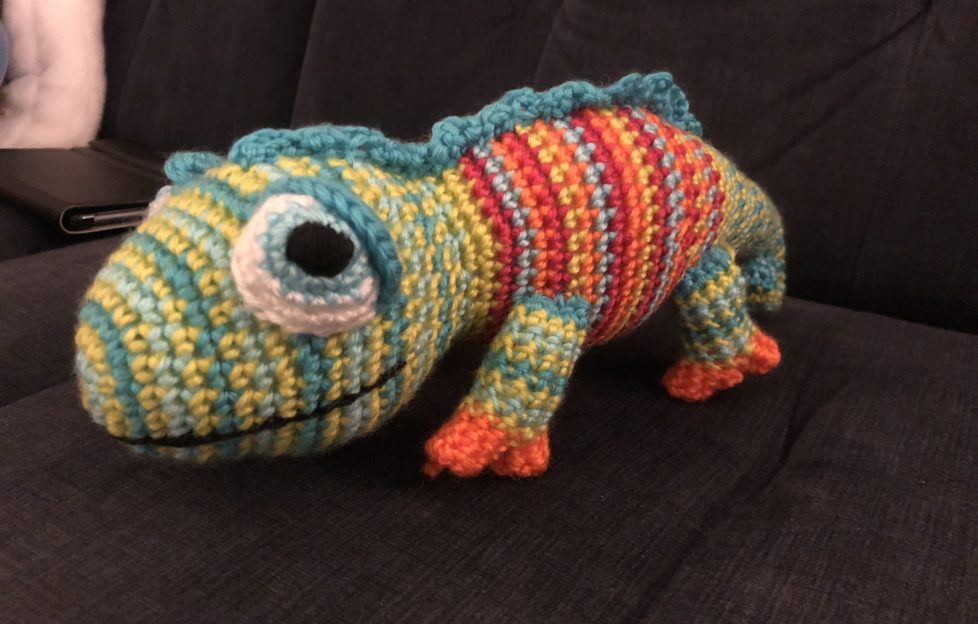 Photograph by Lisa Crow.
Before I went on maternity leave last year, I blogged about my attempt to crochet a cuddly sheep.
It looked great so I set out to make another stuffed toy for Isla, who was born on November 9.
I had reacquainted myself with creating amigurumi (crocheted or knitted soft toys) for the sheep project. But the chameleon was more complicated. He — his name is Curtis — was made up of various vibrant colours.
At one point, with five bright colours on the go, it looked as though I was creating a woolly map of the London Underground!
Worryingly wonky
I'm not sure I have the knack for working different colours in rounds. Instead of a straight line where the colours merge, mine was worryingly wonky.
However, Isla is not a harsh critic when it comes to my crochet skills! As long as I give her milk and cuddles she is more than happy!
My latest project is a stuffed owl for her first birthday. Watch this space for details on how that turned out . . .
The pattern for Curtis came from "Baby Crochet: Adorable Makes You'll Love To Create", which is published by Aceville and priced £9.99.
It came with six balls of wool and a double-ended crochet hook.
The wool supplied with the magazine could be used to make Curtis The Chameleon or a choice of three other patterns.
---
Click here for more great craft content from "The People's Friend. You could take a look at knooking, try out some Tunisian crochet or even get into the festive spirit with some simple decorative Christmas trees.
Every week here on our website, we publish a sneak peek at the craft project you'll find in our latest issue. Click here to take a look, and remember the full pattern/instructions will be available when the "Friend" hits the shops.