Knitting Preview: January 9, 2021 Issue
---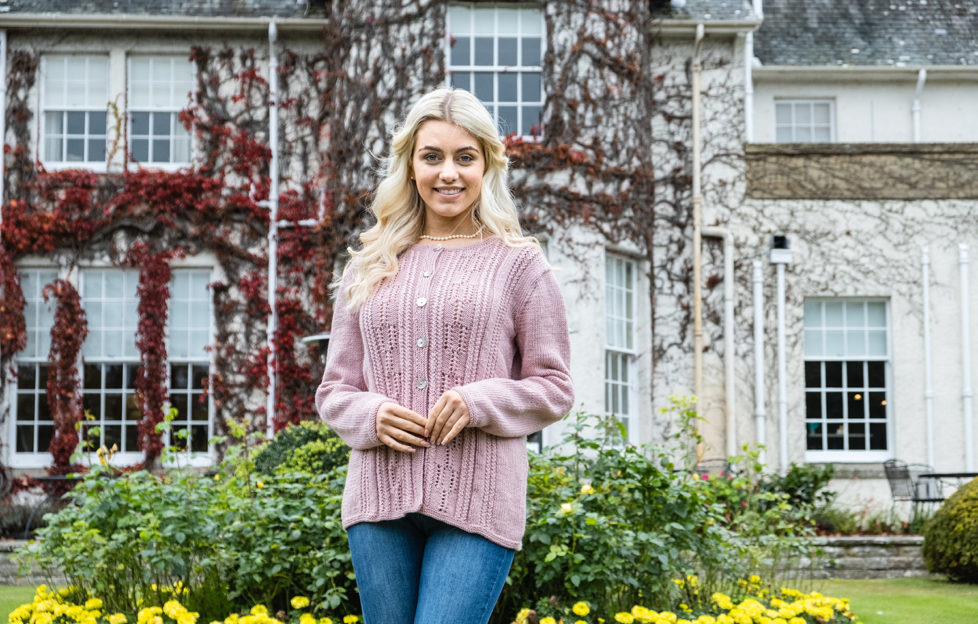 Photograph by Ally Stuart.
We have a pretty cardigan with eyelet detail in this week's knitting preview.
Perfect In Pink is the title we have given this cardigan in our latest issue, and it sums it up beautifully.
The yarn used is Stylecraft's Bellissima DK in shade Precious Posy (3975), one of eighteen colours available. To view the range or to find a local stockist, visit www.stylecraft-yarns.co.uk.
The cardigan comes in six sizes ranging from 81/86 cm (32/34 ins) to 132/137 cm (52/54 ins). Actual size is around 16/11 cm (6/4 ins) bigger so we would recommend you work your usual size.
The eyelet and twist pattern is worked front and back over 29 stitches and 14 rows and includes a twist 2, yf, yon and yrn. Keep track of where you are and you will be fine. For this reason, we have graded this cardigan as intermediate.
The sleeves are in stocking-stitch (knit 1 row, purl 1 row) thoughout so should knit up quickly.
Finally, six buttons complete the look. Our lovely buttons complement the cardigan perfectly and come from Duttons For Buttons, whose range can be found at www.duttonsforbuttons.co.uk.
We think this cardigan with its eyelet pattern is a lovely feminine design and hope you like it, too.
---
Knitting preview piqued your interest? Click here for more great craft content, including DIY face masks!
Or you can subscribe to "The People's Friend" here. That way you'll never miss another one of our great patterns and projects!
A digital subscription means you can download every issue straight to your laptop, tablet or phone. Try it today.