Not The Features Ed Blog: "Waste-not" Muffins
---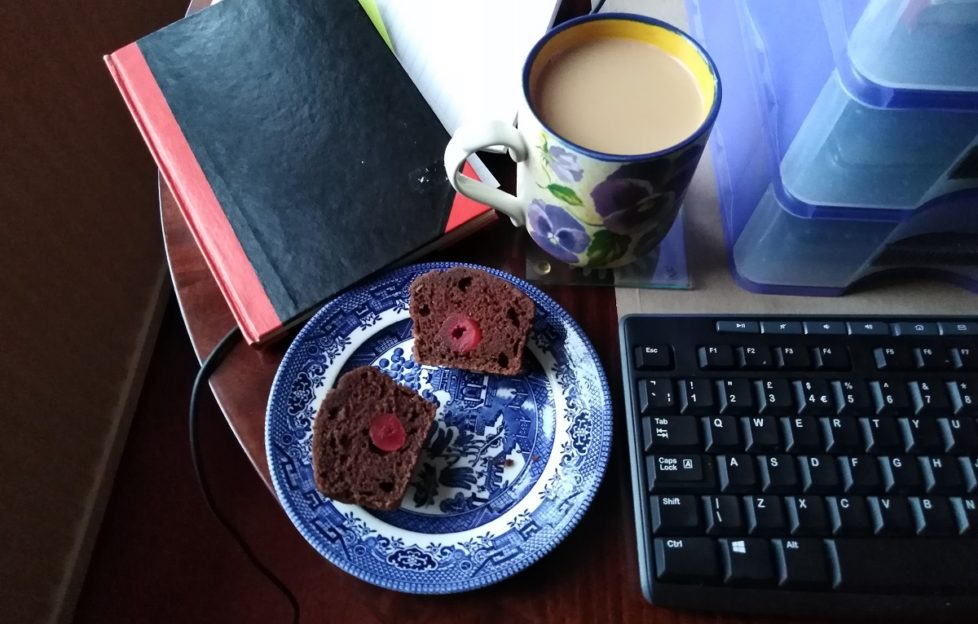 Photograph by Marion McGivern.
Marion continues her role standing in for absent Features Ed Alex . . .
---
It might be a Scottish trait, but leading up to Hogmanay, I feel impelled to clean and tidy the house before the start of the new year.
I'm not saying this always succeeds, but the intention is there!
This year's efforts involved exploring the darkest recesses of a kitchen cupboard. What lurked in those far away corners? Timeworn tins of tuna, vintage vessels of vinegar, prehistoric packets of pasta?
I really dislike wasting food, so if I can use elderly ingredients that I find, I will.
At the same time, I won't take health risks, so there's a balance to be struck here.
This time, I unearthed: an part-used bag of flour (best before March 2020); some slightly out-of-date bicarbonate of soda and baking powder; an unopened bottle of cocktail cherries (best before December 2019); a forgotten tin of cocoa – still perfect; some brown sugar from the last "Friend" Strawberry Tea, and – from the fridge – a small unopened carton of Greek yoghurt teetering on the brink of its use-by date. What to do . . .
The answer, clearly, was bake some muffins.
A little of this features, and a little of that . . .
Last night, armed with fresh butter, egg, and the extra avocado that didn't go into the previous weekend's guacamole, I set to.
Usually, I'm very good about measuring ingredients when baking. Not this time. I have a "go-to" muffin recipe that I play around with as the mood takes me, and that's what I did here.
In went the dry ingredients: flour (check for weevils – thankfully none), bicarb, baking powder, a pinch of salt, sugar, cocoa, and a shake of cinnamon from the spice rack.
A separate bowl for the wet ingredients: melted butter, the yoghurt, well-mashed avocado, egg and a couple of spoons of syrup from the jar of cherries. A quick stir and into the flour mix it all went.
There was one moment of panic.
My kitchen is pretty cold and the melted butter had solidified as the yoghurt hit it. Even after the other wet ingredients went in, the result was more quick-drying cement than batter. Still, there was milk in the fridge.
Several splashes later and the mixture looked like it could drop from a spoon instead of having to be carved off. We were back in business.
I put a spoon of batter into each paper case in the muffin tins, placed a cocktail cherry in the middle, then covered with another spoon of batter.
Eight minutes in the oven at 200 deg. C, followed by another five-to-ten (kept checking after five) at 160 deg. C and they were done.
They're yummy, though you'll have to take my word for that. Not bad for a collection of stuff that would otherwise have been heading for the bin – even if I do say so myself!
---
For more from the Features Ed blog, click here.
For more delicious recipes from the "Friend", click here.