Book Review: "The Family Upstairs" By Lisa Jewell
---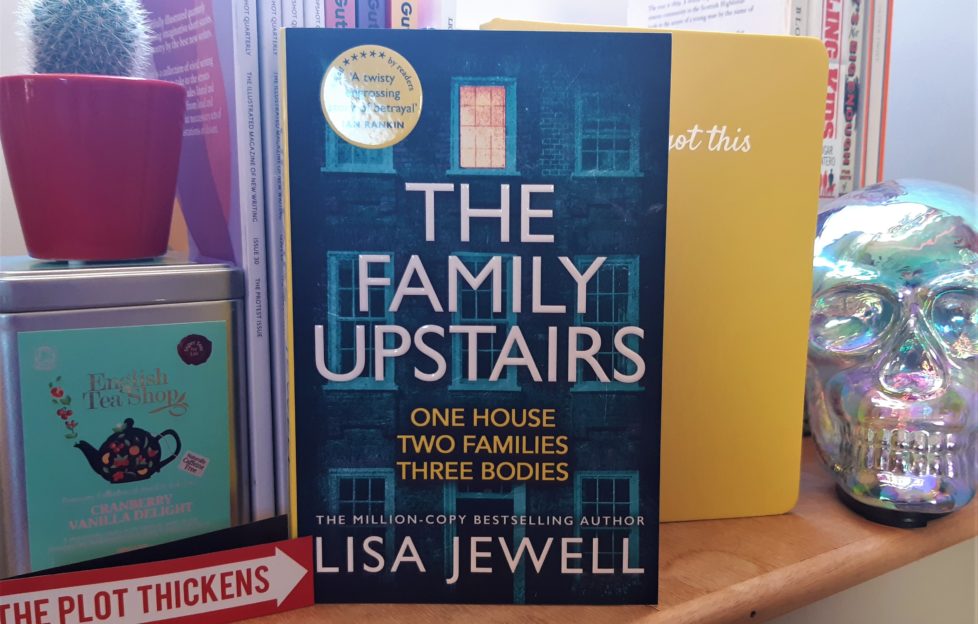 Photograph by Kirsty Souter.
Happy New Year! It's time for a fresh start, new resolutions.
Do you make reading resolutions? I don't usually, but last year I found myself getting into a bit of a rut when it comes to what I read.
I thought this was because I didn't get out and about and into bookshops the same in 2020. But I discovered the library app Libby over the course of lockdown, which gave me access to more books than I could possibly read . . . so that "no choice" argument wouldn't stand up as a defence in court.
The fact is that I do have a "type". It's apparently "historical/fantasy fiction books with blue covers and metallic bits on them". Here's a cross section of my reads from last year:
(But they are nice to look, at in my defence.)
When I received "The Family Upstairs" by Lisa Jewell for Christmas, I was actually a little taken aback. I didn't really know what to expect.
I knew it was one of friend's top reads of the year, but though my favourite read of the year "His Bloody Project" was another recommendation of hers, I hadn't rushed to pick this one up.
Right out of the gate, I'll admit it. I don't really read thrillers.
I'm reluctant to say I don't like them, per se, because I've enjoyed the odd one here and there; but they're just not a genre I generally find myself drawn to.
So, poor Lisa Jewell really had her work cut out for her here!
A dark, gripping tale
"The Family Upstairs" is a dark, gripping tale; one part thriller, one part family saga. It follows the Lamb family, and the series of strangers who move into their house and turn their lives into a living nightmare.
This nightmare comes to a dramatic ending with what looks like a triple suicide.
The only eyewitness to the last few hours of their lives is a young baby, who is discovered still clean, fed and healthy, several days later when the authorities finally come knocking
The first person we meet in "The Family Upstairs" is Libby Jones, who has just turned twenty-five.
This might be a "big" birthday for a lot of people. But it's especially so for Libby, who has finally come of the age to inherit a mysterious trust from her birth parents.
She discovers that she is now the owner of a large property in the fashionable Chelsea area of London. And her life is changed forever.
We also meet Lucy, who is scraping a living in the Cote d'Azur, with two young kids, a broken violin and no permanent address. She receives a reminder on her phone: The baby is 25.
The last person is Henry Lamb.
Unlike the others, his is a first person account from the 1980s. At the beginning of his story, he lives with his parents and younger sister in a large Chelsea townhouse. His parents are rich socialites living off inherited wealth.
Things go south
Things go south when they open their house first to Birdie Dunlop-Evers — a once vaguely famous singer — and her boyfriend, and then again to David Thomsen and his family.
What follows is a fast-paced novel as Libby visits her (now rather dilapidated) new house, and attempts to unravel the mystery of her birth and the circumstances of the deaths of her birth parents.
Lucy is forced to do the unthinkable to raise the money to travel back to England with her family; and Henry's circumstances spiral further and further until it seems that he and his family have been unwittingly drawn into a sinister cult.
While it was perhaps not the typical choice for festive reading, I got stuck into the "The Family Upstairs" on Boxing Day, and I'd finished it before the turkey sandwiches were done.
It's certainly a gripping novel! (Though perhaps not for the faint of heart. It doesn't shy away from presenting life in the cult as violent and increasingly traumatic.)
The three-way narrative is very interesting.
Each different focal character has their own mysteries to puzzle out, and you wonder the whole time how and when they will all collide.
Thankfully, Jewell makes sure that the book keeps you on your toes. There is no shortage of strange and shocking twists right until the last pages.
---
For more book reviews from the "Friend" team, click here.