Knitting Preview: February 6, 2021 Issue
---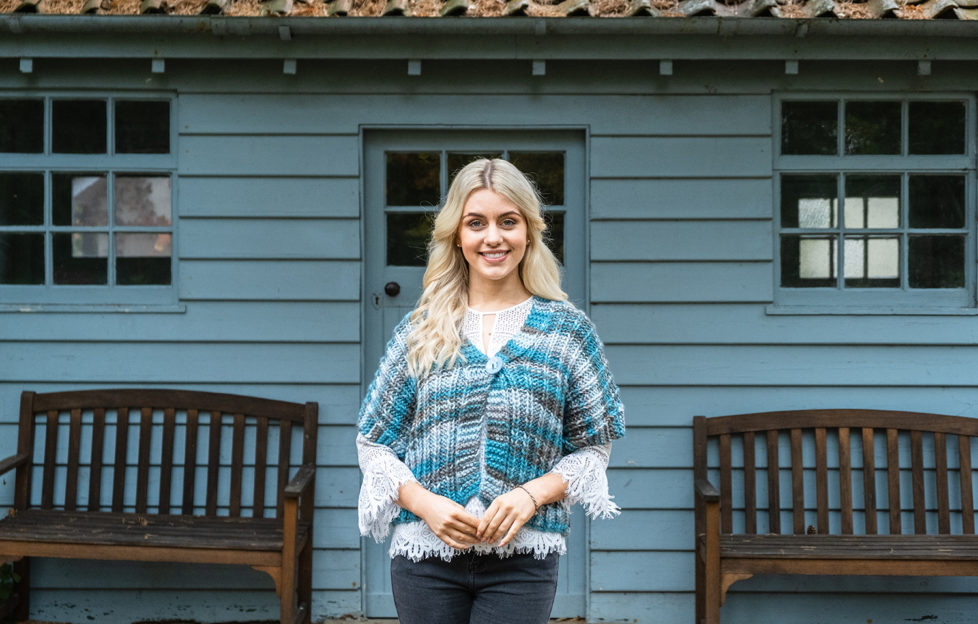 Photograph by Ally Stuart.
We have a simple little bolero for you in this week's knitting preview.
If you are looking for a quick and easy design to knit then this is perfect. Our bolero adds a stylish extra layer that is ideal at this time of year.
It is worked in King Cole Quartz Super Chunky in the shade Opal (4466) using 9 mm (No. 00) knitting needles. The yarn consists of a striking blend of colours, which form a lovely fabric when knitted up.  If you would like to find your nearest stockist or see the seven other shades in the range, visit www.kingcole.com.
The bolero comes in five sizes ranging from 71/76 cm (28/30 ins) to 112/117 cm (44/46 ins). Actual size is approx. 14/9 cm (5¾/3¾ ins) larger. We would recommend you knit your usual size.
The pattern is a simple rib and the sleeves are created by casting on stitches when working the fronts and back. These sleeves are complete with simple garter-stitch borders, also worked at the same time.
The finishing touch is a feature button. Ours came from www.duttonsforbuttons.co.uk who have buttons for every occasion and garment.
Whether you make this bolero for yourself or as a gift, we hope you love it as much as we do.
---
Knitting preview piqued your interest? Click here for more great craft content, including DIY face masks!
Or you can subscribe to "The People's Friend" here. That way you'll never miss another one of our great patterns and projects!
A digital subscription means you can download every issue straight to your laptop, tablet or phone. Try it today.