Crochet Preview: February 13, 2021 Issue
---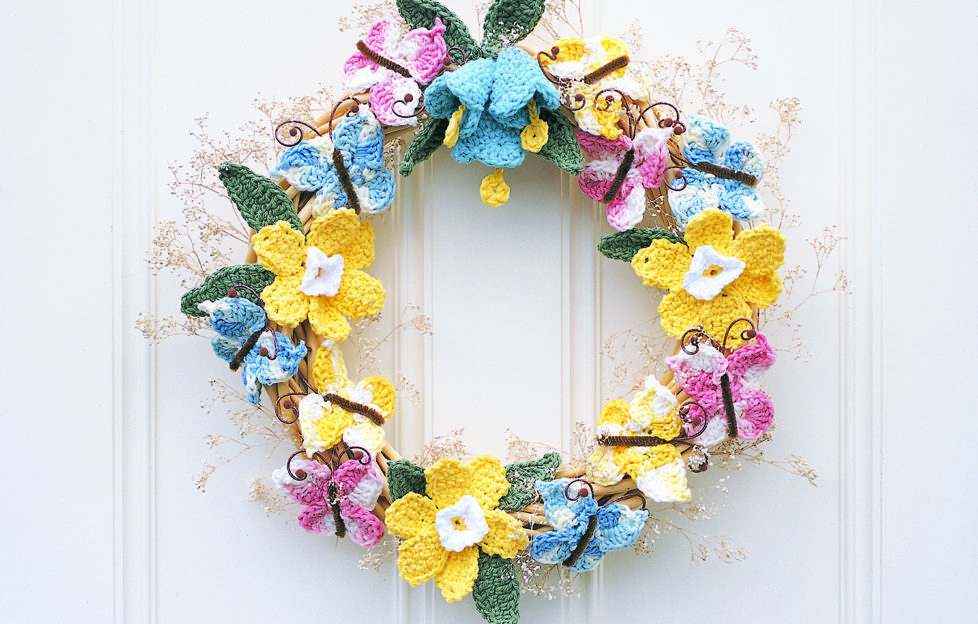 Photograph courtesy of Lily Yarns.
Crochet fans will love our spring wreath.
Prepare for better days ahead with our crochet wreath, which celebrates spring. It features daffodils, butterflies and bells in a combination that creates a bright, welcoming design.
The yarns used are Lily Sugar 'n Cream in the solid shades of Yellow (Yellow (00010), Sage Green (00084), Soft Ecru (01004)) and Light Blue (00026) and Lily Sugar 'n Cream Ombre in Faded Denim (00181), Daisy (00165) and Strawberry (00144).
To view the yarns and to order direct, visit www.readicut.co.uk.
In addition, you will need a 4 mm crochet hook, five brown chenille stems (pipe cleaners), a short length of florist's wire (or similar), little pom-poms and a willow wreath base.
We have also included some dried flowers to add a finishing touch but that is optional.
We have graded this design as easy; the stitches used are chain, double crochet, half treble and treble (UK terms).
Each motif is worked individually and then glued on to the willow wreath using a glue gun. If you prefer, you can stitch in place.
So why not banish thoughts of snow and ice and look forward to spring with our colourful design?
---
Crochet preview piqued your interest? Click here for more great craft content, including Lisa's adventures with Mosaic Crochet!
Or you can subscribe to "The People's Friend" here. That way you'll never miss another one of our great patterns and projects!
A digital subscription means you can download every issue straight to your laptop, tablet or phone. Try it today.