Knitting Preview: February 27, 2021 Issue
---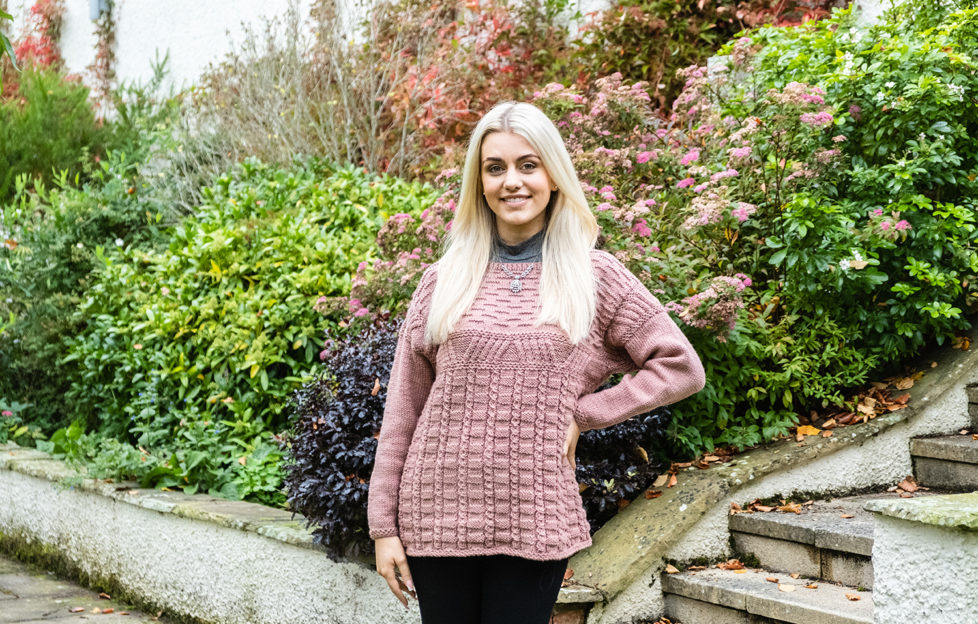 Photograph by Ally Stuart.
We have a modern twist on a traditional sweater for you in this week's knitting preview.
The fisherman's gansey is the inspiration behind this cosy sweater. Our designer has brought it up to date using Rico Essentials Soft Merino Aran in shade Elder (021). You can find out more about this lovely 100% pure wool yarn, view alternative shades and order direct at www.blacksheepwools.com.
Instructions come for six sizes ranging from 78/81 cm (30/32 ins) to 127/132 cm (50/52 ins). Actual size is approx. 16/13 cm (7/5 ins) bigger, offering a comfortable fit.
We have graded this as an intermediate design. There is nothing too challenging, but you do need to keep track of your rows.
The design features three patterns – the main rib pattern worked over an 8-row repeat, the yoke pattern worked over 9 rows and then the upper yoke pattern, also worked on an 8-row repeat. The slip-stitch border completes the look.
The sleeves are worked from the top down, so you start with all your stitches and decrease as you head towards the cuffs.
Finally, you will need four pairs of needles to work this design 4 mm, 4.5 mm, 5 mm and 5.5 mm plus a cable needle.
We think this timeless sweater will be a real winner and we hope you do, too.
---
Knitting preview piqued your interest? Click here for more great craft content, including Lisa's adventures with Mosaic Crochet!
Or you can subscribe to "The People's Friend" here. That way you'll never miss another one of our great patterns and projects!
A digital subscription means you can download every issue straight to your laptop, tablet or phone. Try it today.