Knitting Preview: March 6, 2021 Issue
---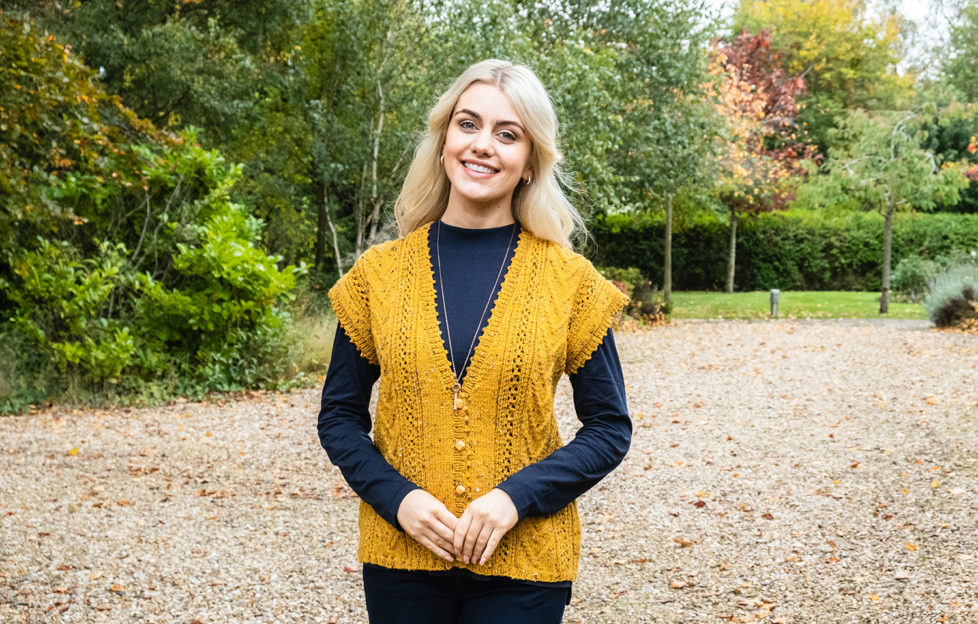 Photograph by Ally Stuart.
We're bring you a splash of colour in this week's knitting preview.
Our latest issue features this lovely lacy waistcoat this week, with lace, cables, and a picot edging.
It is worked in Stylecraft Life DK in the shade Ochre Nepp (3522). A lovely wool/acrylic mix with flecks of colour worked through it.
This yarn is great value, too, and you can knit up our waistcoat for around £11 – £18. To find out more about the yarn or to find a stockist, visit www.stylecraft-yarns.co.uk.
The waistcoat comes in six sizes, ranging from 71/76 cm (28/30 ins) to 127/132 cm (50/52 ins). Actual size is around 18/13 cm (7/5 ins) larger, giving you room to have a top on underneath. We would recommend working your usual size.
We have graded this an intermediate design. The pattern panel is worked over 16 stitches and 12 rows and is set against a 4-row repeat eyelet pattern.
The back worked in stocking-stitch (knit one row, purl one row) throughout and will work up quickly. Both fronts feature the pattern and a drop shoulder meaning there is no additional arm shaping. Front and armhole borders complete the look.
Finally, well-matched buttons always enhance a garment. This design requires five, and ours came from www.duttonsforbuttons.co.uk. They have a huge selection to choose from.
If you want to look sharp as you step out, this is the waistcoat for you.
---
Knitting preview piqued your interest? Click here for more great craft content, including Lisa's adventures with Mosaic Crochet!
Or you can subscribe to "The People's Friend" here. That way you'll never miss another one of our great patterns and projects!
A digital subscription means you can download every issue straight to your laptop, tablet or phone. Try it today.