Lamb Rump With Veggie Mash And Cheesy Leeks
---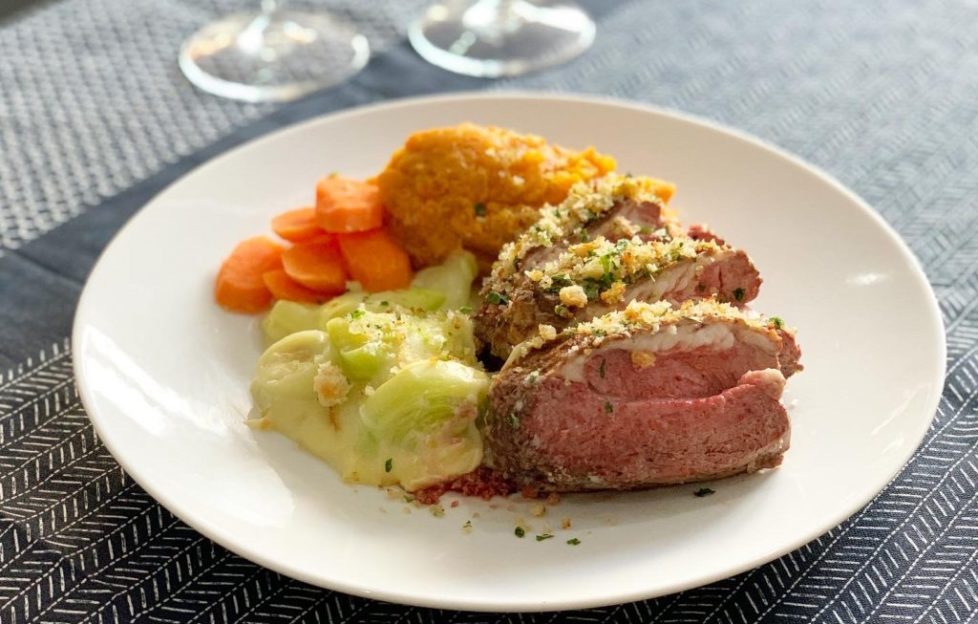 Photograph courtesy of British Leeks.
Ingredients
2 x lamb rumps
Salt and freshly ground black pepper to taste
For the Crumb:
2 slices sourdough bread
1 tsp lemon zest
1 clove garlic
Small bunch parsley
Small bunch mint
2 tbs olive oil
For the Root Vegetable Mash:
1 small swede
1 carrot
1 sweet potato
For the Cheesy Leeks:
1 tsp butter
½ tbs vegetable oil
1 leek, cleaned and sliced
1 tbs plain flour
200 ml (7 fl oz) milk
½ tsp Dijon mustard
100 g (3½ oz) cheese, e.g. Hafod, Red Leicester
To Serve: carrots.
By the Tidy Kitchen Co; courtesy of British Leeks.
We're celebrating St David's Day the tasty way — with this delicious lamb dish, courtesy of Tidy Kitchen.
Method:
Pre-heat the oven to 200 deg. C., 400 deg. F., Gas Mark 6.
To make the crumb, whizz the sourdough in a blender. Add the lemon zest, garlic, parsley, mint and the oil. Pulse to combine well.
Bring the lamb rumps to room temperature and season with salt and pepper.
In a frying-pan, cook the lamb fat side down over a medium heat until rendered and browned but not burned. Brown on each side and then use a pastry brush to brush the mustard on to the top. Press the crumb on to the top and transfer the lamb to the pre-heated oven to roast for 12 to 15 minutes (leave a little longer if you prefer well done). Take the lamb out of the oven and let it rest for 20 minutes before slicing.
Meanwhile, to make the mash, chop the root vegetables into evenly sized pieces and cook in a saucepan of salted water for 20 to 25 minutes until soft. When you can slide a knife in easily, they're cooked. Drain and mash roughly. Season to taste.
To make the cheesy leeks, heat the butter and oil in a frying-pan, add the leek and sweat until soft but not brown. Add the flour and stir in the milk bit by bit to avoid lumps. Stir in the mustard and add the cheese. Melt and stir until thickened.
Serve the lamb with the heated root vegetable mash, warmed cheesy leeks and carrots.
---
Click here for more great recipes from "The People's Friend". If it's lamb you have the taste for, try this Panzanella recipe. Or you could sample a hearty cobbler!
If you can't get to the shops just now for your "Friend", subscribe now by clicking here. It means your magazine will come straight to your door every week — all you have to do is put the kettle on!
You can also take out a digital subscription, meaning your issue will come straight to your computer, tablet or phone! And it's great value for money. Click here for more details.