Braised Beef in Irish Stout
---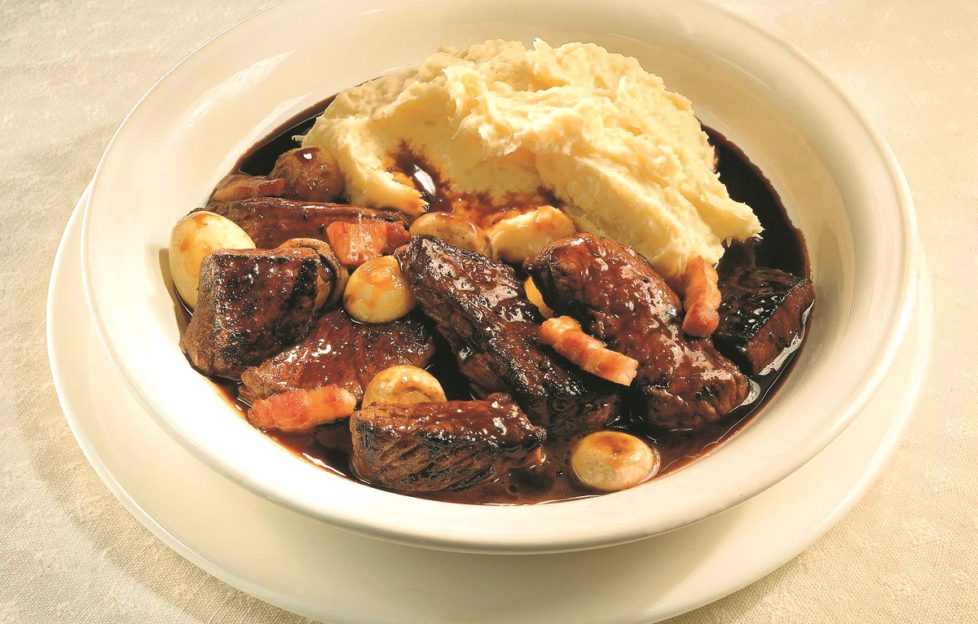 XBIAT
Ingredients
1 tbs olive or rapeseed oil
1 kg (2 lb 4 oz) shoulder beef, cut into thin slices
1 onion, chopped
2 leeks, 2 carrots, 2 celery sticks, chopped
2 cloves garlic
250 ml (9 fl oz) well reduced beef stock
125 ml (4 fl oz) stout
Salt and freshly ground black pepper, to taste
50 g (1¾ oz) butter
75 g (2½ oz) streaky bacon, diced
100 g (3½ oz) wild mushrooms, if available, sliced
50 g (1¾ oz) small onions, peeled
25 g (1 oz) flour
To Serve: mashed potatoes.
Recipe and image courtesy of Bord Bia.
We're celebrating St Patrick's Day with rich, tasty braised beef in Irish stout. This recipe takes a little longer, but it's worth it!
Heat the oil in a large frying-pan and brown the meat well. Remove to a saucepan.
Sauté half the onion in the frying-pan with the leeks, carrots and celery. Add to the meat along with the garlic. Pour in the stock and stout, then season. Simmer gently for approximately 1½ hours. Remove the meat from the pot. Strain the liquid into a clean saucepan. Discard the vegetables.
Place the meat into the saucepan containing the strained cooking liquid.
In a frying-pan, sauté the bacon, mushrooms and remaining onions in 25 g (1 oz) of the butter. Add the mixture to the meat in the saucepan and reheat.
Blend the flour with remaining butter. Add it into the sauce, stirring well for a few minutes to blend. Check seasoning, then serve in a deep dish with buttery mashed potatoes.
---
Click here for more great recipes from "The People's Friend". For more St Patrick's Day recipes, why not start the day with this tasty pan-fried breakfast and try our traditional Irish Tea Brack for a delicious teatime treat?
If you can't get to the shops just now for your "Friend", subscribe now by clicking here. It means your magazine will come straight to your door every week — all you have to do is put the kettle on!
You can also take out a digital subscription, meaning your issue will come straight to your computer, tablet or phone! And it's great value for money. Click here for more details.