Craft Preview: March 27, 2021 Issue
---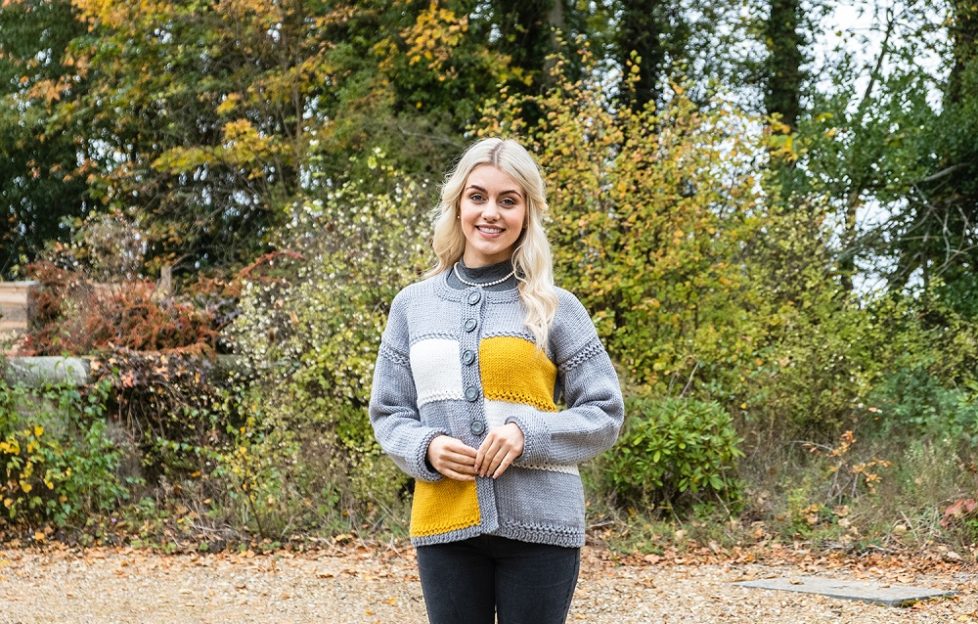 Photography by Ally Stuart.
If you're itching for a new craft project, fear not! We have just the thing for you in our March 27 issue.
This colourful jacket is perfect for welcoming spring.
Three contemporary shades are used in this five-buttoned jacket, which also features a twist-stitch pattern at each colour change. This is worked on the borders and at the top of the arms, too. The back is in the main shade throughout.
The yarn used is Rico Essentials Mega Merino Chunky in Light Grey (013), Mustard (006) and Cream (001). You can also view alternate shades and order direct from www.blacksheepwools.com.
The five buttons complement the jacket perfectly and they are available from www.duttonsforbuttons.co.uk.
The jacket comes in five shades ranging from 76/81 cm (30/32 ins) to 117/122 cm (46/48 ins). Actual size is around 18/13 cm (7/5 ins) bigger, which gives plenty of room for a layer underneath.
We have graded this as easy, most of the garment being in stocking-stitch (knit 1 row, purl 1 row) with minimal shaping. In addition, as you are working in a chunky yarn, it will knit up quickly.
Above all, this piece is both comfortable and stylish. We love this geometric jacket and hope you do, too.
---
Has this craft preview piqued your interest? Click here for more great craft content, including Lisa's adventures with Mosaic Crochet!