Knitting Preview: April 3, 2021 Issue
---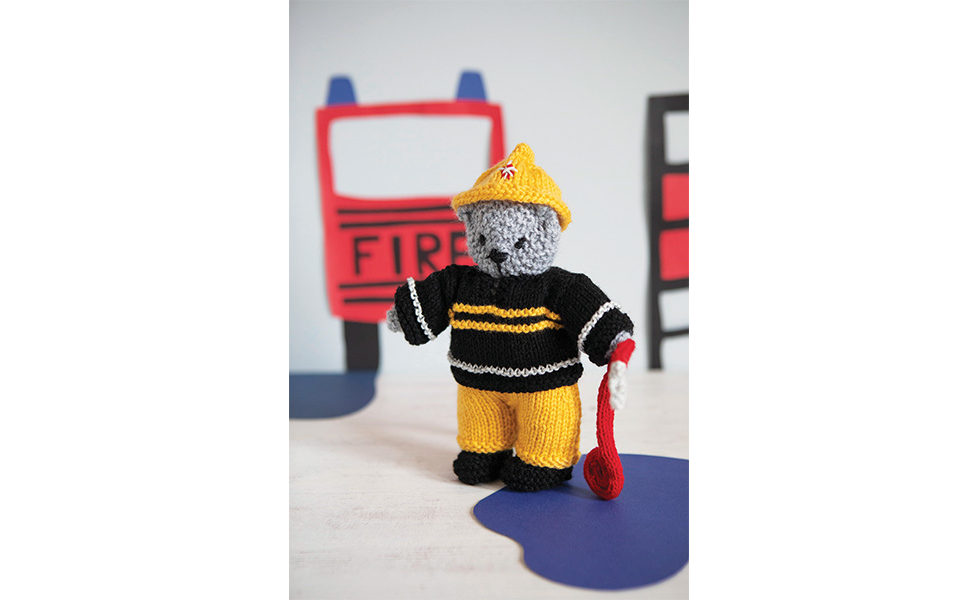 Photograph courtesy of Search Press.
We have a pattern for a great toy in this week's issue — we're happy to give you a sneak peek in this knitting preview!
Who could resist brave little Firefighter Ted, ready to tackle anything?
As well as being a cute little teddy, this firefighter is the ideal way to use up odds and ends of yarns.
The bear itself is worked in garter stitch (knit every row) in pieces and then stitched together. The clothes are worked in a mix of garter stitch and stocking stitch (knit one row, purl one row). The hose is an i-cord. Don't worry if you have not made one before, we give you full instructions.
We recommend one 50-g ball of DK yarn in Black, Grey and Yellow and smaller quantities of Red and Silver Grey. In addition, you will need some embroidery thread and toy stuffing.
There is a simple diagram to follow to help you shape the head.
"20 To Knit: Dressed Up Bears"
We have graded this as an intermediate design. There is nothing too tricky, but you do need to keep count of your stitches as you work.
If you are a fan of Firefighter Ted and would like to make some of his friends, check out the book this design came from, "20 To Knit: Dressed Up Bears" by Val Pierce, published by Search Press at a great-value price of £4.99 (plus p&p if ordered direct). You can find out more about the book at www.searchpress.com.
We love our fun firefighter and hope you do, too.
---
Knitting preview piqued your interest? Click here for more great craft content, including Lisa's adventures with Mosaic Crochet!
Or you can subscribe to "The People's Friend" here. That way you'll never miss another one of our great patterns and projects!
A digital subscription means you can download every issue straight to your laptop, tablet or phone. Try it today.