Fiction Sneak Peek: April 24, 2021
---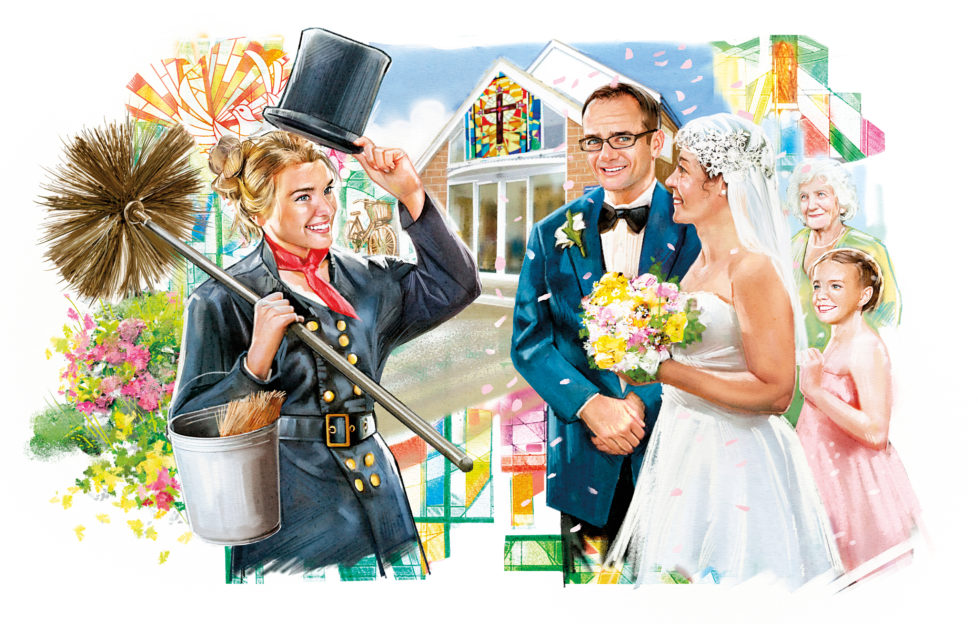 Illustration by Sailesh Thakrar.
Hello, and welcome to our weekly sneak peek at the wonderful fiction you'll find in our new issue, on sale Wednesday.
Short stories
Our opening story is Laura Tapper's "As Lucky Can Be". Chrissie's dad loves his "Lucky Sweep" business, but when he puts his back out, Chrissie must step in to avoid letting the happy couples down . . . whether it 'soot's her, or not! With a vibrant illustration by Sailesh Thakrar.
Cloakroom attendant Jeannie witnesses the first lady of colour to win an Academy Award, in Alison Carter's "City Of Dreams". Thoughtfully illustrated by Sarah Holliday. Catch up with this year's Oscars on Sunday.
Storms scare Jude, but one particular storm helps her realise she's ready for an adventure she thought she'd never have. "Weathering The Storm" by Teresa Ashby has an illustration from the Shutterstock picture library.
Singletons Michael and Susan are both very fond of dogs. Michael's very fond of Susan too, but not sure how the land lies . . . Find out in Lynne Hallett's "The Perfect Match", with a Ruth Blair illustration.
We're off to Gnothrielli (pronounced "not really") next, and another adventure with policeman, Jethro. A local recluse has important information about a crime, but he's nowhere to be found. Richard Bonsall's story, "Conway's Warning", is illustrated by Martin Baines.
Michelle is not delighted to find that Donna, an old school friend, has returned to their village in "Let It Go", by Katie Ashmore. With a super modern illustration by Ruth Blair.
A year and a half after divorcing, Linda's still breaking her heart – until a meeting with her ex in the tile showroom where he now works helps her realise she's no longer part of his design. Gabrielle Mullarkey's uplifting "Home Comforts" is illustrated by our own Manon Gandiolle.
Serials
Tina feels certain there's more to Neil than meets the eye, in Part Two of Kate Blackadder's fresh new serial, "The Saturday Scribblers". With wonderful illustrations by Ruth Blair.
And in the exciting final part of Katie Ashmore's "A Tale Of Two Sisters", Lucinda's ship has been lost. Should Millicent cling to the hope that her sister could still be alive? Stunning illustrations by Helen Welsh have accompanied this super serial.
Look out for a new eight-part serial starting next week – Pamela Kavanagh's "The Tanner's Son".
Series
In Part 4 of Stefania Hartley's "Tales From The Parish", Father Okoli needs a haircut . . .
. . . and in Glenda Young's "Riverside", should Anna be wary of her new recruit?
---
If this sneak peek has left you wanting more, don't worry! Our new issue is in shops soon.
Did you know that subscribers receive their issues early? Click here for more information on subscribing to the "Friend" today.