Knitting Preview: May 1, 2021 Issue
---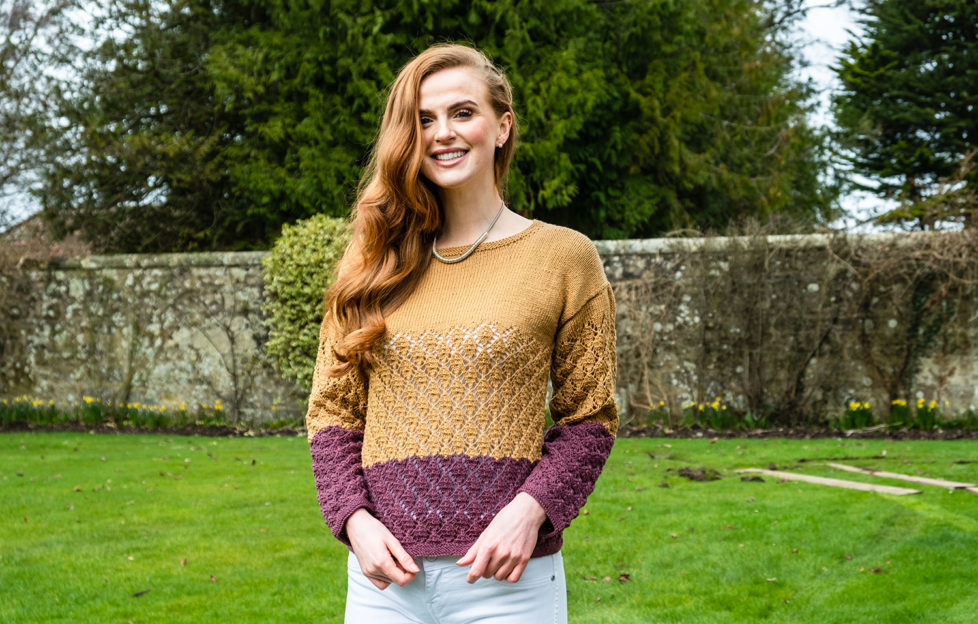 Photograph by Ally Stuart.
Welcome to our knitting preview, where we take a look at the pattern you'll find in the latest issue of "The People's Friend".
We have a lovely lacy sweater for you this week.
The sweater features strong, jewel shades in Rico Design Essentials Merino DK, a pure wool yarn that is very comfortable to wear. We have used Caramel (068) as the main shade and Magenta (083) for contrast. Both colours highlight the lace design beautifully.
If you would like to view the other shades available for order direct, visit www.laughinghens.com.
The top comes in a wide range of sizes from 81 cm (32 ins) to 117 cm (46 ins). Actual size is around 4 cm (2 ins) bigger so we would recommend you work your usual size.
The lace pattern is worked over an 8 + 1 st repeat and 12 rows.  The ribs and cuffs are worked in garter-stitch (every row knitted). The yoke is stocking-stitch (knit one row, purl one row).
As long as you keep a careful eye on your place in the lace rows, you will be fine. For this reason, we have graded this as an intermediate knit.
If you would like to bring a splash of colour to your day, this is the ideal sweater for you.
---
Has this knitting preview piqued your interest? Click here for more great craft content, including Lisa's adventures with Mosaic Crochet!