Individual Cheese And Onion Pies
---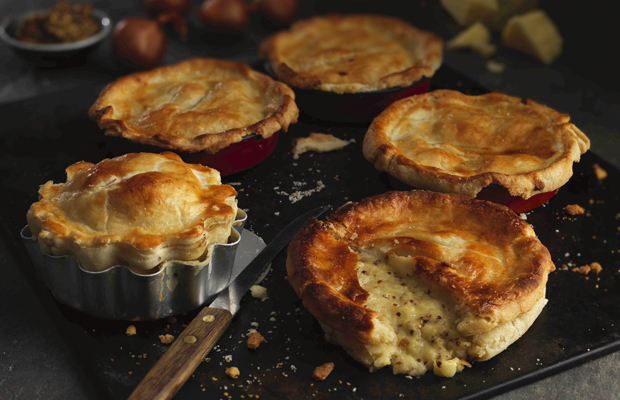 Image courtesy of www.pilgrimschoice.co.uk
A little flour, for dusting
A little butter, for greasing
1 pack of ready rolled shortcrust pastry
1 onion
180 g (6½ oz) Pilgrims Choice Mature Cheddar
1 tbs wholegrain mustard
A little milk
Recipe courtesy of www.pilgrimschoice.co.uk
Cheese And Onion Pies might not be the first to spring to mind when in your local bakery, but we guarantee you won't regret giving them a try!
But rather than heading to the shops, take to the kitchen and make these ones for yourself. They're not only tasty, but nice and simple!
Method:
Pre-heat oven to 190 deg. C., 375 deg. F., Gas Mark 5. Lightly grease 4 individual pie tins and dust with a little flour.
Roll out the pastry on a floured surface. Using a cutter a little larger than your pie tins, cut out a base for each pie and use to line the pie dishes.
Grate the onion and Pilgrims Choice Mature Cheddar into a bowl. Add the mustard and a little milk and stir well. Fill the pie bases with the mixture.
Cut out pie tops and place on the pie dishes, making sure the edges are sealed. Pierce the top of each pie to allow the steam to escape.
Brush with milk and bake in the pre-heated oven for approximately 25 minutes.
---
Everyone likes a good pie here in the UK. We have a good few pies to try, like this Special Shepherds Pie, or this one filled with Quorn Steak, Ale And Mushroom.
Can't get to the shops just now for your "Friend", subscribe now by clicking here. It means your magazine will come straight to your door every week — all you have to do is put the kettle on!
You can also take out a digital subscription, meaning your issue will come straight to your computer, tablet or phone! And it's great value for money. Click here for more details.