Features Sneak Peek: June 12, 2021
---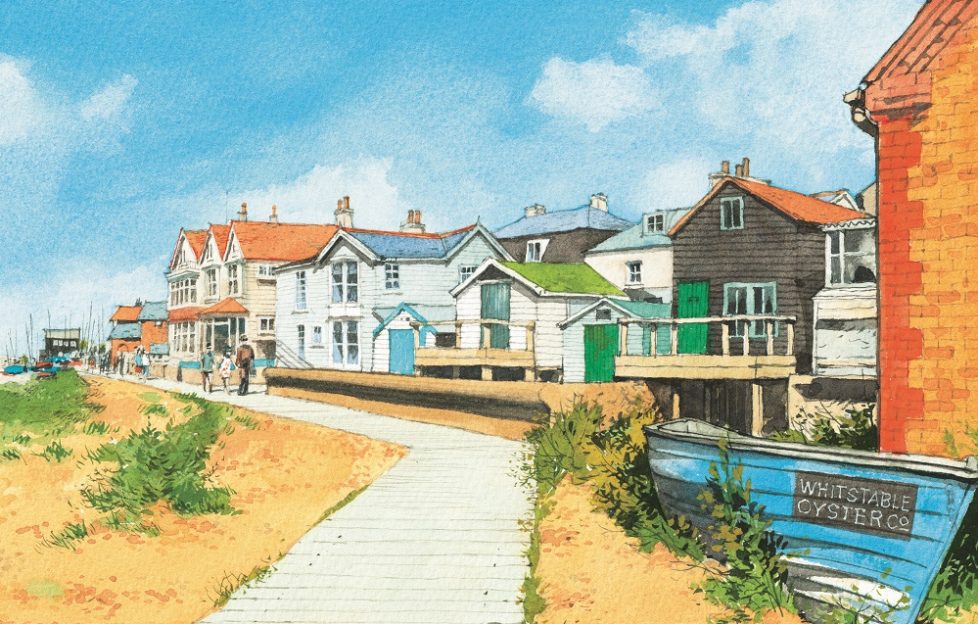 Illustration by DC Thomson.
Neil McAllister takes in the wonders of Whitstable in our June 12, 2021 issue.
Kent's charming oyster capital is known for its delicious seafood, of course, with an annual festival celebrating the tasty mollusks.
Join Neil as he investigates a recently established coastal trail. Accessible to all, the route aims to give visitors an insight into the area's history, environment and landscape in an easy three-mile stroll.
Mammoth and woolly rhinoceros fossils have been found on the beach here, so keep your eyes peeled on your walk.
We will also stop at Whitstable Castle, and the former Thames sailing barge Greta awaits day-trippers.
Nerys Pearce
Nerys Pearce was serving as a medic in the Army when she was left paralysed from the chest down after being hit by a car.
Life as Nerys knew it changed forever but Blesma was there to help. Blesma, the Limbless Veterans is an Armed Forces charity dedicated to assisting serving and ex-servicemen and women who have suffered life-changing injuries.
Since then, with aid, too, from Help For Heroes, Nerys has clocked up all kinds of athletic achievements, winning medals at the Warrior and Invictus Games.
Nerys has also represented Wales in para-powerlifting at the 2018 Commonwealth Games and won swimming races against fully able competitors. Steve Newman finds out more.
Wonky Garden
Lorna Cowan meets the Cheshire volunteers spreading kindness and community cheer through their Wonky Garden.
The scheme is about improving physical and mental health, building confidence and making friends.
Co-founder Angela Hayler met Sue Hulme at a local yoga class for cancer patients. Their love of life and flowers led to them creating their community garden in 2017. They now spend time with people of all ages and abilities.
The project "random acts of flowery kindness" was born last spring, with lockdown imminent. The objective was to bring a smile and say hello. Read more about it in the magazine.
Fowl Play
Polly Pullar shares the highs and lows of keeping hens. Over the years, she has tried numerous different varieties so Polly is well placed to comment.
Polly talks of her recent triumph after keeping eggs in an incubator. The eggs were kept warm artificially then the mother hen was left to sit on them. Three little chicks hatched successfully. The hen proved to be a brilliant mother.
Elsewhere, we have a batch of recipes using berries and cherries. Plus we have a pattern to knit a pretty top. We hope you enjoy it. Let us know what you think.
---
Has this sneak peek at our June 12, 2021 issue encouraged you to subscribe to the "Friend"? Click here. If you do, your "Friend" will come straight to your doorstep! 
You can also take out a digital subscription, meaning your issue will come straight to your computer, tablet or phone! And it's great value for money. Click here for a sneak peek at that!