Seared Beef Steak Fajitas With Guacamole
---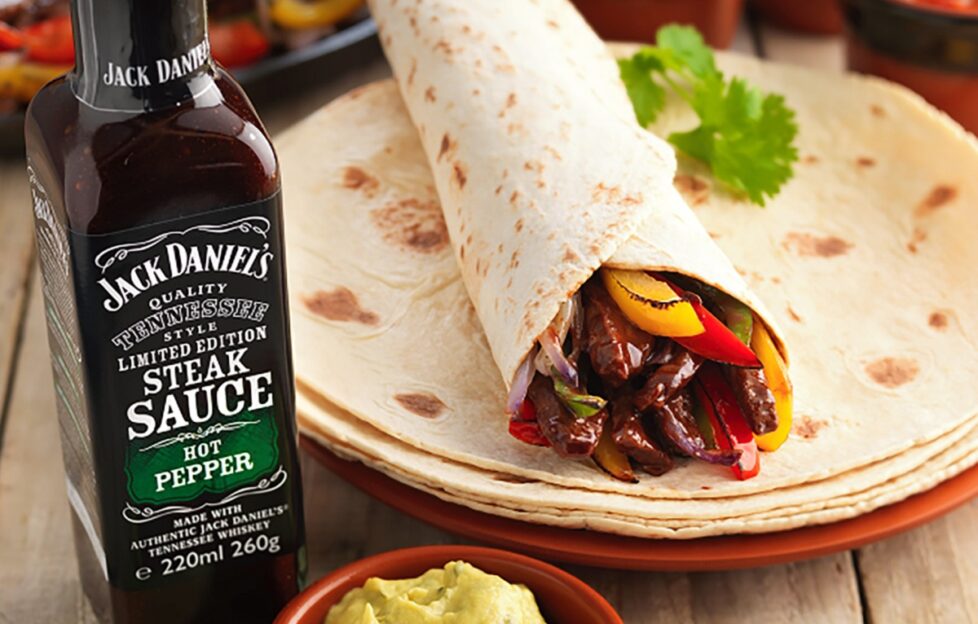 Image courtesy of Jack Daniel's BBQ Sauces.
Ingredients
750 g (1 lb 10 oz) beef steak, trimmed of fat and gristle
½ bottle Jack Daniel's® Hot Pepper Steak Sauce
2 tbs vegetable or olive oil
2 red onions, peeled and cut into 1 cm (½ in) strips
3 peppers: 1 x green, 1 x yellow, 1 x red, seeded and sliced into 1 cm (½ in) strips
12 x 8 inch flour tortillas
For the Guacamole:
2 medium tomatoes, chopped roughly
½-1 fresh red chilli, chopped finely
1 clove garlic, chopped finely, optional
1 tbs fresh coriander, leaves and stalk tops, chopped roughly
1 ripe avocado
1 lime, juice only
Salt and freshly ground black pepper, to taste
To Serve: sour cream; grated Cheddar; tomato salsa; fresh coriander leaves.
Recipe courtesy of Jack Daniel's BBQ Sauces.
It's fair to say that fajitas have come a long way since their 1930s debut as the Tex-Mex dinner of choice. They even have their own day now! Celebrated across the USA on August 18 each year, let's hear it for the tasty meal in a wrap on this National Fajita Day and celebrate with these sizzling Seared Beef Steak Fajitas with home-made guacamole!
Let's start frying and folding:
To make the fajitas
Coat the whole piece of steak with Jack Daniel's® Hot Pepper Steak Sauce and place in a bowl covered in cling film. Leave to marinate at room temperature for one hour, or up to 24 hours in the fridge if you prefer a richer flavour. Don't slice the meat; larger pieces are easier to cook.
Wipe off any excess sauce and place a large griddle pan over a high heat for 1 to 3 minutes. Brush the griddle lightly with oil and add the steak, frying on each side depending on how well done you like your meat (3 minutes per side will create a medium steak of average thickness).
Remove the steak from the pan, cover with foil and allow to rest on a plate for 5 minutes.
Place the sliced onions and peppers in a bowl and toss with 1 tablespoon of the oil. Add to the griddle pan and cook for 5 to 6 minutes. Using a pastry brush, brush over the vegetables with Jack Daniel's® Hot Pepper Steak Sauce halfway through cooking.
Slice the meat at an angle and against the grain and place on top of the cooked seared vegetables in the pan. Remove the pan from the heat.
Warm the flour tortillas in the microwave for 20 seconds and place on a warmed plate. Wrap in foil to retain the heat.
To make the guacamole
To make the guacamole, place the tomatoes, chilli, garlic and coriander on a large chopping board. Halve and stone the avocado, then squeeze it over the board so the flesh comes out of the skin. Discard the avocado skin. Chop all of the ingredients together until the avocado is blended through. Place all ingredients in a bowl and squeeze in the lime juice. Season to taste.
To serve
To serve, offer chilled bowls of sour cream, guacamole, grated Cheddar, tomato salsa and fresh coriander leaves. Help yourselves to the steak and vegetables straight from the hot grill pan (be careful – it will be hot!) Take a hot tortilla, add some steak, onions and peppers, sprinkle some cheese and add a spoon of guacamole and sour cream. Top with salsa and roll up into a hand-held wrap and enjoy!
---
Fancy fajitas but not the meat? No problem; just mosey on over to our Mexican Veggie Fajitas recipe to join the Tex-Mex fun. Prefer veggie Tex-Mex without the folding? It has to be our Hearty, Healthy Vegetable Chilli! 
If these Seared Beef Steak Fajitas left you wanting more, don't forget ew also have plenty more recipes from "The People's Friend", from soups to salads to steak pies. Try one today!