Features Sneak Peek: September 25, 2021
---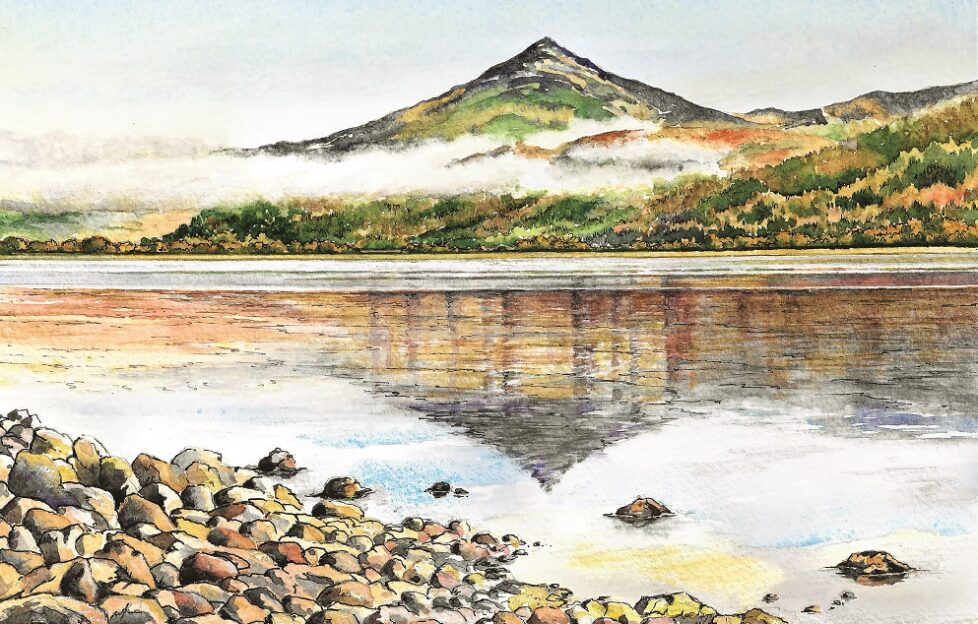 Illustration by DC Thomson Ltd.
Willie Shand enjoys views of Schiehallion in the stunning countryside of Perth and Kinross, in the September 25, 2021 issue of "The People's Friend".
With photo stops arising at frequent intervals, you'll want to make sure you have a camera when visiting here. Schiehallion, also known as the "fairy hill of the Caledonians" is one of Scotland's most photographed peaks.
While in the area we'll visit the site where Annat Village once stood. Now reduced to rubble, the former village's old walls are slowly being reclaimed by nature.
Una Stubbs
Beloved for her sprightly energy, Una Stubbs was seldom out of the public eye in her fifty-year career as an actress, dancer and TV personality.
During the 1950s, Una became known as the "Rowntree's Chocolate Girl", appearing in adverts for Dairy Box.
From "Summer Holiday" to "Sherlock", Douglas McPherson recalls Una's sparkling career.
Christie Watson
Christie Watson knows what it means to care. The nurse-turned-writer spent most of her 20-year career in paediatric intensive care before working as a resuscitation officer.
Today Christie writes about her experiences, penning non-fiction titles, including "The Language Of Kindness" and "The Courage To Care".
Christie says the incredible nurses she worked with during her career inspired her to write her latest book, which examines the remarkable extent of nurses' work.
Christie spent two years researching her book, talking to various different types of nurse. Dawn Geddes finds out more.
Sole Sisters
Earlier this year, Magdalena Augustyn-Lygas beat over 150 entrants to become the first-ever overall champion of the Scottish Walking Awards.
Magdalena's idea for a walking group for newcomers to Scotland began after joining a local community group, the Fife Migrants Forum.
She started as a volunteer there and eventually went on to set up a new group, Sole Sisters, a walking group for women that does so much more.
People from different nationalities and ethnic minorities tend to feel less confident about asserting their culture and sharing this generally. The walking activities are helping to realign perceptions and understanding between us all. Features Ed Alex finds out more.
Elsewhere in the magazine, we have a tasty collection of recipes to make satisfying soups. Plus we have a knitting pattern to make a lovely feminine top.
We do hope you enjoy it. Let us know what you think.
---
Has this sneak peek at our September 25, 2021 issue encouraged you to subscribe to the "Friend"? Click here. If you do, your "Friend" will come straight to your doorstep! 
You can also take out a digital subscription, meaning your issue will come straight to your computer, tablet or phone! And it's great value for money. Click here for a sneak peek at that!