Features Sneak Peek: October 16, 2021 issue
---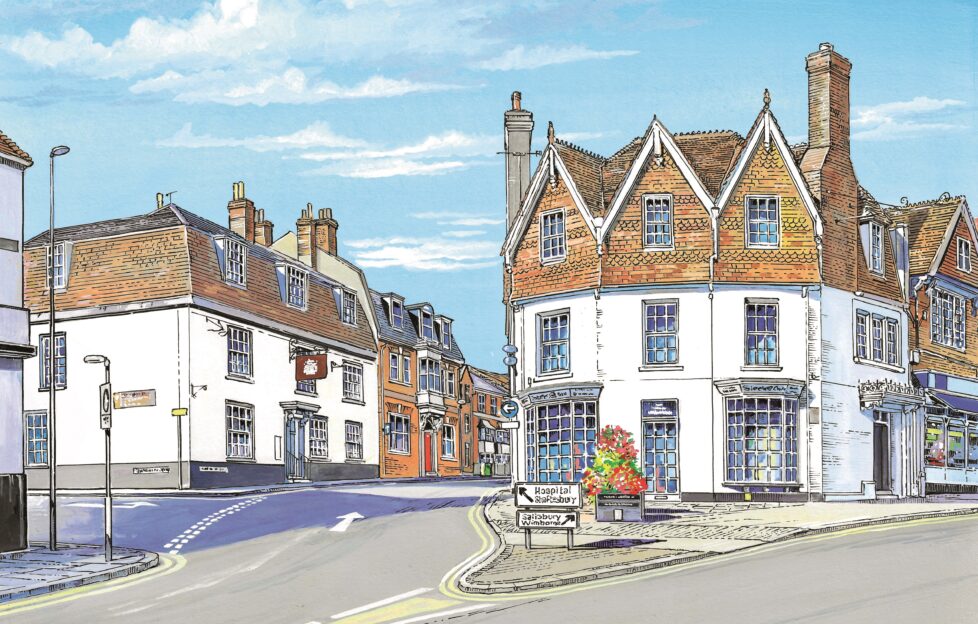 Illustration by DC Thomson Ltd.
Pat Coulter takes a relaxing trip to the fascinating Dorset market town Blandford Forum, in the October 16, 2021 issue of "The People's Friend".
It's hard to believe that amongst the water meadows and dabbling ducks we are just a couple of minutes' stroll from the town centre's Market Place. It's a peaceful aquatic haven, perfect for relaxation.
We'll be staying in the Crown Hotel while we're here. A former coaching inn, it is reputedly the oldest in Britain. We'll visit Blandford Town Museum to discover the history of the town, including The Great Fire of Blandford, in 1731.
Next we'll wander through the glorious scented gardens at Keynestone Mill. There are 50 dog-friendly acres to explore…
Alex Hamlin
While a walk in woodland is a great way to escape daily life, we should all be mindful of ticks. This is something Alex Hamlin's sister, Vicky, is only too aware of.
The once-active Vicky was suddenly dogged by ill health, and was diagnosed with Lyme disease.
Alex wants to highlight the dangers and raise money for Caudwell LymeCo Charity, who are conducting a vital medical-research programme. It's the first of its kind in the UK.
To help raise funds for the research carried out by the charity, Alex decided to take on some challenges. Yvonne McKenzie finds out more.
The Plight Of The Puffins
When broadcaster and radio presenter Paul Heiney planned to sail to Iceland, he was looking forward to the prospect of seeing a lot of puffins along the way. The reality was somewhat different, and Paul was disappointed by the lack of the distinctive birds.
He had expected to see them in the Faroe Islands, but didn't see any and was again unable to spot any in Orkney. When he returned home, Paul wrote a book, "Farewell Mr Puffin".
Doing research for his book, Paul found that puffins have suffered from over-fishing and subsequent food shortages, amongst other issues.
Paul was heartened to hear of children in the Westman Islands heading out with cardboard boxes at night to rescue pufflings, baby puffins. Features Ed Alex finds out more.
Never Too Old For Abbey Road
When folk singer Saskia Griffiths-Moore launched a song-writing competition for the over-fifties at the end of last year, she'd no idea how much talent she'd discover.
What started as a lockdown project to keep people entertained and engaged became her full-time job for five months. Entry to the competition was limited to the over-fifties because many of Saskia's fans had told her over the years that they wrote songs themselves but felt they'd missed their chance to make a mark on the music industry.
Saskia wanted to show that wasn't true and that it was never too late for Abbey Road. In fact, the prize package included a recording session at the legendary studios.
Winner Fergus McNeill was thrilled to prove the most impressive, with a song called "Bloodrush". Douglas McPherson finds out more.
Elsewhere, we have a collection of delicious recipes providing a taste of autumn. Plus our craft project this week is a felted garland capturing the rich colours of autumn.
We hope you enjoy it. Let us know what you think.
---
Has this sneak peek at our October 16, 2021 issue encouraged you to subscribe to the "Friend"? Click here. If you do, your "Friend" will come straight to your doorstep! 
You can also take out a digital subscription, meaning your issue will come straight to your computer, tablet or phone! And it's great value for money. Click here for a sneak peek at that!