Mini Roast Pumpkins Stuffed with Mushrooms
---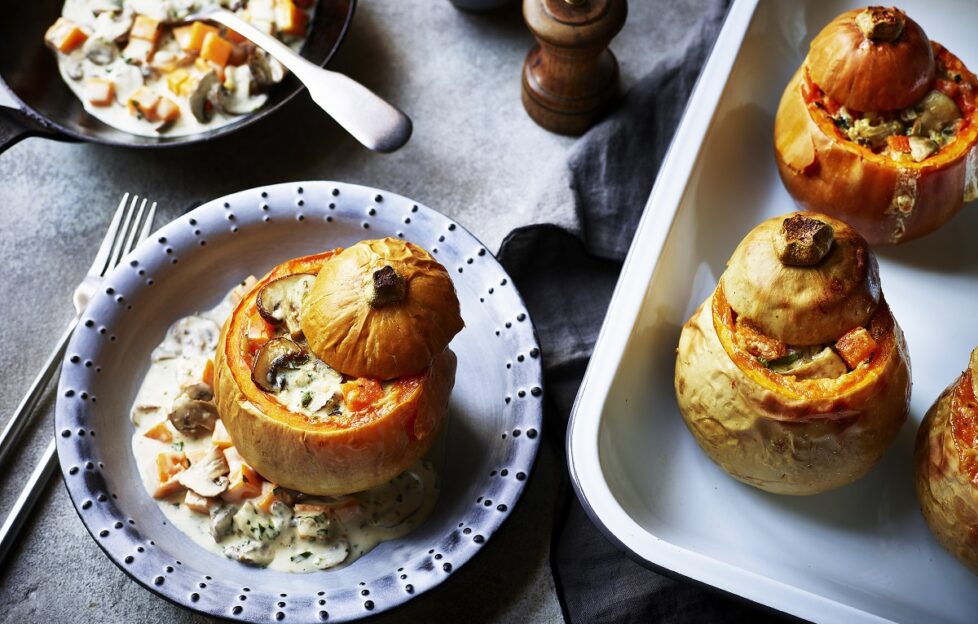 Ingredients
4 butternut squash or small pumpkins
3 tbs coconut oil
400 g (14 oz) button mushrooms
1 banana shallot, sliced finely
1 clove garlic, crushed
1 x 400 ml tin of coconut milk
1 stick lemongrass
1 tbs grated ginger
1 large bunch of fresh coriander, chopped
1 tbs fish sauce
1 tbs soy sauce
1 lime, zest and juice
2 red chillies, sliced finely
Recipe and image courtesy of the Mushroom Bureau.
It's nearly Hallowe'en, so we're getting in the mood with these mini roast pumpkins stuffed with mushrooms. Delicious, and so good for you – and it looks cute, too! It's also vegan, if you use one of the vegan fish sauce substitutes you can buy.
Let's cook!
Pre-heat oven to 200 deg. C., 400 deg. F., Gas Mark 6.
Cut the top off the squash and remove, retaining the top to act as a lid, leaving a globe-like bowl. Hollow out the seeds and as much flesh as you can, then discard the seeds.
Heat a saucepan with the coconut oil and add the squash, mushrooms, shallot and garlic. Cook on a medium heat for ten minutes, stirring often until softened.
Add the coconut milk, lemongrass, ginger and most of the coriander and mix well.
Add the fish sauce, soy sauce, lime and chillies and gently stir in.
Fill each squash with the mixture and top with the lid, then roast in the oven for about 15 to 20 minutes until the squash are starting to colour.
Remove from the oven, top with the remaining coriander and serve.
Serves 4.
---
Click here for more great recipes from "The People's Friend". And if you're a fan of squash, we've got you covered.
Try this warming Lamb Stew With Butternut Squash And Chestnuts or, for vegetarians, why not try this tasty Roast Butternut Squash and Chestnut Soup?
If you can't get to the shops just now for your "Friend", subscribe now by clicking here. It means your magazine will come straight to your door every week — all you have to do is put the kettle on!
You can also take out a digital subscription, meaning your issue will come straight to your computer, tablet or phone! And it's great value for money. Click here for more details.