Features Sneak Peek: December 4, 2021 Issue
---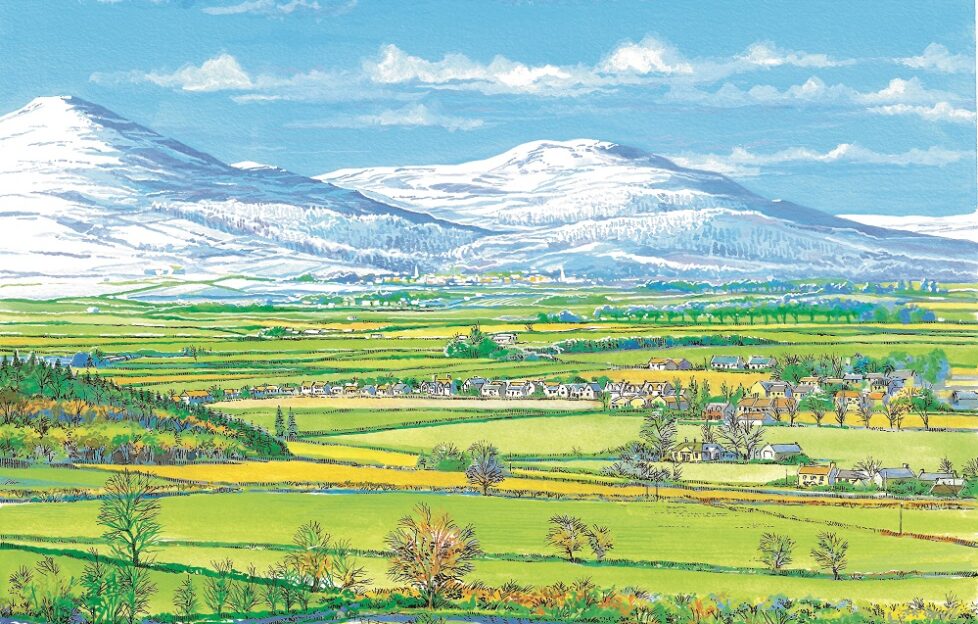 Illustration by DC Thomson Ltd.
It's time for another features sneak peek, and this week it's a bumper issue! We have 144 pages of festive content for you to enjoy.
Willie Shand discovers the incredible history at the heart of "the granary of Scotland" in the December 4, 2021 issue of "The People's Friend".
Willie is heading for the Howe of Fife, that hollow of rich farmland in the very heart of the kingdom. Join him as he scales West Lomond, at 1,713 feet. Another hill, Down Law, is the site of the remains of a fort. You can still see the ramparts and ditches, although many centuries of cultivation have taken their toll.
Part of our route will accompany the newly formed and inspirational Fife Pilgrim Way. Connecting Culross and North Queensferry with St Andrews Cathedral, the long-distance walk of around 64 miles wends through some bonnie parts of the kingdom.
Further on our journey we will stop at Fife's greatest river, the Eden, and admire the bridge there, which is now more than 600 years old. It is a lovely part of the country to visit.
Penguin Parade
In August 2020, when Melbourne, Australia, was in the middle of a 112-day lockdown, a livestream of a local wildlife attraction became a global internet hit. Almost 800,000 people tuned in on the first night to watch a colony of little penguins waddle on to the beach at sunset and make their way to their burrows.
Internet viewing may be new, but the "Penguin Parade" on Phillip Island has been a popular tourist destination for decades, and October 2021 marked a century of penguin viewing.
In the magazine, Liz Filleul goes behind the scenes at Penguin Parade to discover that education is high up in the pecking order of the experience.
Celebrating Hans Christian Andersen
Christmas wouldn't be Christmas without a sprinkling of magic from Hans Christian Andersen.
The Danish author's fascinating fairy tales have been enchanting children for generations, whether listening to a bedtime reading from a copy of "Thumbelina" or entranced by the Disney movie "The Little Mermaid".
Hans Christian Andersen loved a good story. Once upon a time, this famous teller of fairy tales visited Edinburgh to pay homage to another renowned storyteller. Janey Swanson discovers an enchanting tale and a special fairy-tale walk where Hans Christian Andersen is remembered.
Seasonal Celebrations
Across the UK, communities from small villages to the biggest cities all do something to mark the Christmas season, and top of the list in most people's minds will probably be London.
However, the rest of the country has a lot to offer, too. Join Features Ed Alex as he takes a look at some of the other great venues to get you in the mood for the big day!
Elsewhere, we have a collection of delicious Christmas treats and edible gifts to make. Plus we have a knitting pattern to make a cosy jumper and a craft project to make a tree angel.
There is so much more to mention that we just don't have the space for here. However, other features include Disneyworld turning 50 and a look back at one very special day in the history of rock 'n' roll. Don't miss out!
We hope you enjoy it. Let us know what you think.
---
Has this sneak peek at our December 4, 2021 issue encouraged you to subscribe to the "Friend"? Click here. If you do, your "Friend" will come straight to your doorstep! 
You can also take out a digital subscription, meaning your issue will come straight to your computer, tablet or phone! And it's great value for money. Click here for a sneak peek at that!