Beef Pie With Blueberry And Blackcurrant Cordial
---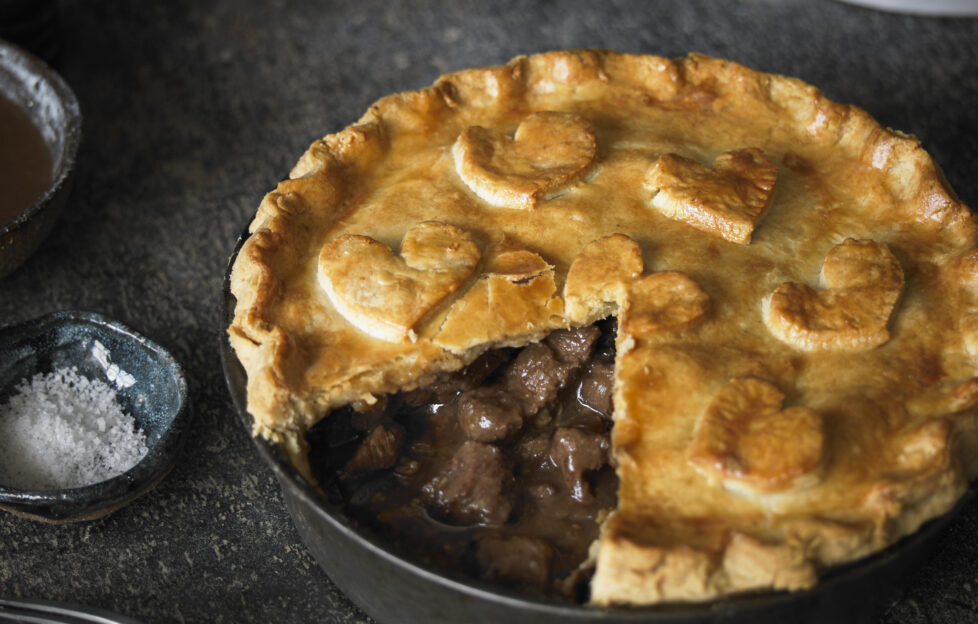 Image courtesy of Belvoir Farm.
Ingredients
2 tbs rapeseed or other oil
1 red onion, chopped
500 g (1 lb 2 oz) British beef braising steak
2 tbs plain flour, seasoned
100 ml (3½ fl oz) Belvoir Blueberry & Blackcurrant Cordial
500 ml (18 fl oz) beef stock
2 bay leaves
For the Pastry:
200 g (7 oz) cold butter
400 g (1 lb) plain flour
Pinch salt
Ground black pepper
2 eggs, beaten (reserve half for egg wash)
Recipe courtesy of Belvoir Farm.
You're cordially invited to try this hearty beef pie with the not-so-secret ingredient, blueberry and blackcurrant cordial.
The sweet cordial might seem surprising, but it adds a rich depth of taste to complement the beef.
This recipe serves six.
Method:
Heat the oil in a heavy based frying-pan and gently fry the onion until it starts to colour. Remove with a slotted spoon and keep to one side.
Toss the beef in the seasoned flour, then brown a few pieces at a time, taking care not to overcrowd the pan. You might need a little more oil.
When all the meat is browned, deglaze the pan with the Belvoir Blueberry & Blackcurrant Cordial, scraping at any caramelised bits stuck to the bottom. Then add back the onion and beef and stir in the stock. Add in the bay leaves.
Pop a lid on and put the beef in the oven at 190 deg. C., 375 deg. F., Gas Mark 5 for about an hour and a half, then remove from the oven and leave to cool. Remove the bay leaves.
To make the pastry, cut the cold butter into cubes and add to the flour. Add in the salt and pepper, and then either place in a food mixer or rub in the butter gently with just your fingertips until the mixture resembles breadcrumbs
Add in half the beaten egg and bring together into a firm dough. Wrap the dough in clingfilm and chill in the fridge for about 20 minutes.
Flour the work surface and rolling pin really well. Divide the pastry into two pieces: about 2/3 for the base and the other 1/3 for the top. Roll out the larger piece and use it to line a metal pie dish – around 23 cm (9 in) is perfect – then return to the fridge until the filling is cool.
Spoon the cooled filling into the pie, then roll out the pastry lid. Place over the filling and crimp the edges with your fingers or a fork to seal. Brush with the remaining beaten egg and bake for about half an hour at 180 deg. C., 350 deg. F., Gas Mark 4.
---
Don't despair if you're vegetarian. We have more lovely pie recipes on our website, just for you.
Try delicious Individual Cheese And Onion Pies or  Quorn Vegetarian Steak Strips, Ale And Mushroom Pie. Hap-pie days!