Raspberry and White Chocolate Cookies
---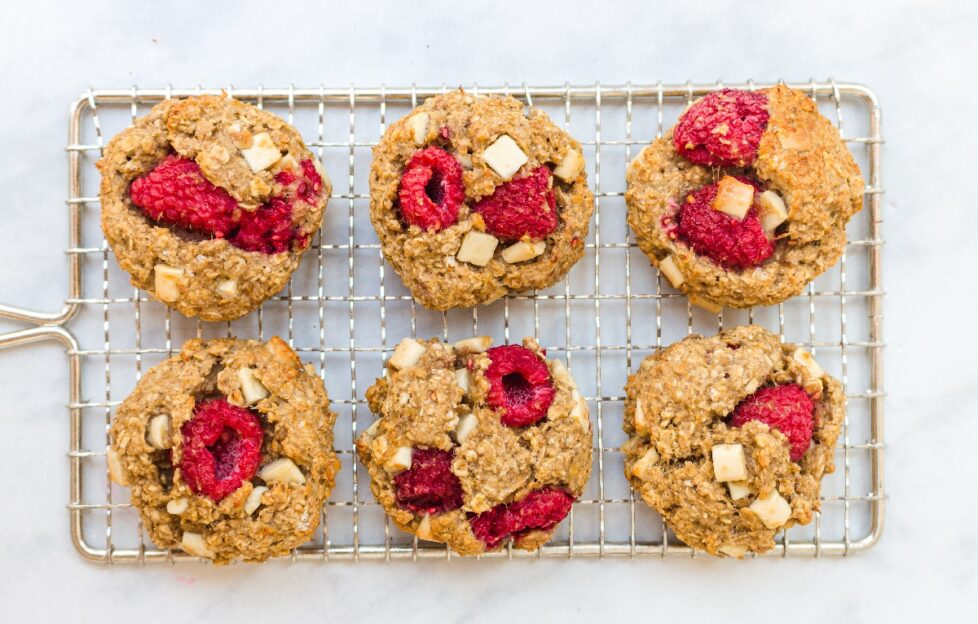 Image courtesy of Love Fresh Berries.
Ingredients
2 ripe bananas, about 200 g (7 oz)
50 g (1¾ oz) smooth almond butter (runny)
100 g (3½ oz) oats
80 g (2¾ oz) oat flour (oats ground into flour in a blender)
¼ tsp bicarbonate of soda
50 g (1¾ oz) white chocolate chips or chunks
80 g (2¾ oz) raspberries
Recipe courtesy of Love Fresh Berries.
As cookies go (and they will!), these Raspberry and White Chocolate Cookies are pretty healthy, all things considered.
There's no added sugar (we're not counting the chocolate, OK?) and with all the fruit, oats and almond butter, they pack a real vitamin and mineral punch, and they're a good source of protein, too.
What's not to like?
This recipe makes 10 Raspberry and White Chocolate Cookies.
Method:
Pre-heat oven to 180 deg. C., 350 deg F., Gas Mark 4. Line a baking tray with parchment paper.
Mash the bananas in a large bowl and stir in the almond butter. Stir in the oats, oat flour and bicarbonate of soda. Fold in the chocolate chips and raspberries carefully.
Use a large tablespoon scoop to divide the dough into 10 cookies. Roll into balls with your hands (they'll be sticky!) and place them on to the baking tray. Press down slightly.
Bake in the pre-heated oven for 12 to 14 minutes or until golden. Enjoy warm or allow to cool.
Not enough cookies? Don't worry, we have more!
How about these lovely Kitchen Sink Cookies? Or if you fancy something a little more biscuity and less squidgy, try our Sunny Seville Biscuits.
Baking for gifts? These gorgeous Cherry And Almond Florentines are sure to be appreciated!
---