Fiction Preview: Special 221
---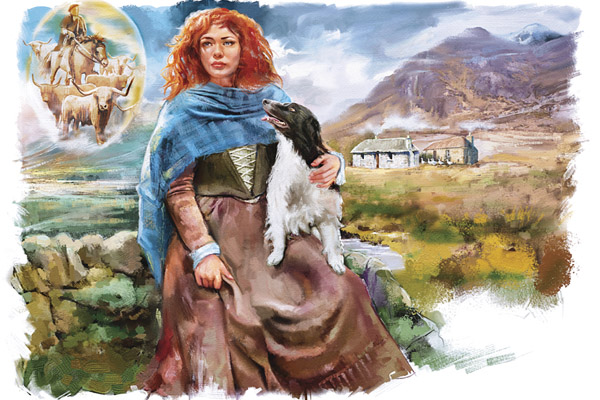 Artwork: Sailesh Thakrar
Our newest Special, 221, is on sale this Wednesday, February 9.
Here's a preview of the stories you'll find inside.
Fourteen Brand-New Stories
Our opening story is set in the 1980s – Liz Filleul's "On The Paper Trail". Junior reporter, Callie, has no idea who sent her a mystery Valentine's card, but she's on the case! With an illustration by Ruth Blair.
Josh and Lucy want to postpone an engagement, in "Fools Rush In". By Gabrielle Mullarkey, it's illustrated by Helen Welsh.
Widowed Max feels sure no one will ever understand him as well as his beloved Chrissie. "You Need Somebody", by Teresa Ashby, is illustrated by Shutterstock.
 We go back to the 1820s for our next story – "A Lesson In Lace". There's no love lost between Rose and the fearsome mistress of Cucumber Lane School… Written by Laura Tapper, it features artwork by Ruth Blair.
Happy Valentine's!
Alternative Valentine's plans are made in our next story, "Ladies' Night", by Jane Tulloch. Illustrated by Kirk Houston.
There's an important question to be answered, in "Somewhere Special". But is the timing right? By Patsy Collins, it's illustrated by Shutterstock.
In Eirin Thompson's "The Bigger Picture", a business venture leads to unexpected results. Artwork from Kirk Houston.
An Eight-Page Mystery Long Read
Our eight-page mystery is next – "Seeking Sanctuary", by H. Johnson-Mack. Sister Ursula can tell there's more to one visitor than meets the eye. Illustration by Jim Dewar.
In Alison Carter's "Eyes On You", one young woman has her work cut out trying to keep tabs on the roguish Ralph. Artwork by Tracy Fennell.
We have a debut author, next – a warm welcome to Holly Crawford. A grandmother has a bright idea, in Holly's "A Suitable Alternative", which is illustrated by Helen Welsh.
Two Debut Authors
In light of a family estrangement, can one mum's recipe work its magic? "Celebration Cake", by Alyson Hilbourne, is illustrated by Shutterstock.
 An intriguing conversation is overheard in Beth Watson's "Make Your Move", illustrated by Shutterstock.
A promise made is a promise kept in "We'll Meet Again, by our second Debut "Friend" Author – Helen Buckley. Artwork by Andre Leonard.
Lots Of Good Reading
A dangerous journey is undertaken, in Joan Cameron's "King Of The Drovers". Artwork by Sailesh Thakrar (above).
A plant holds special memories in Wendy Howell's "Under The Wisteria". Our final story of this Special features artwork by Manon Gandiolle.