Fiction Preview: Special 247
---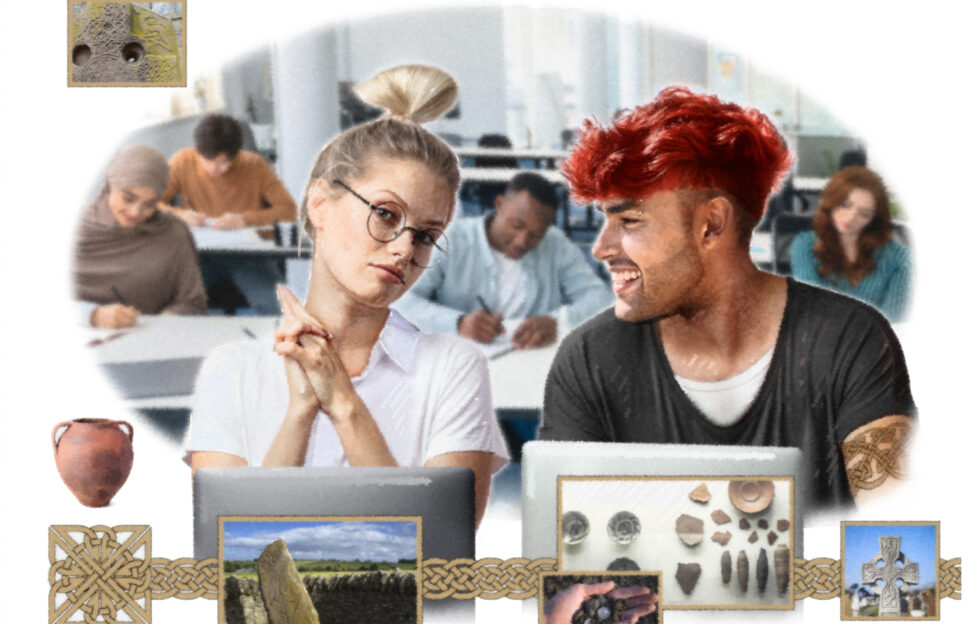 Illustration: Mandy Dixon
Let's look at the fiction in our latest Special, 247 – available from Wednesday, August 16.
Twenty New Short Stories
Our opening story for this Special is by Audrey Mary Brooks – "Digging Deeper". Archaeology student Connie has an admirer in fellow student, Josh. But although Connie feels they aren't compatible, Josh isn't giving up! Artwork from Mandy Dixon (above).
Newly-single Clara is persuaded to take a turn as the fayre's fortune-teller in Glenda Young's "Now You See It"…
…while in Patsy Collins' "Seeds Of Success", schoolteacher Olive hopes sunflowers can teach her pupils a valuable lesson.
We're in Rome, next, for Stefania Hartley's "To Be Loved", where Amanda tries hard to make herself lovable…
…and there's a cake mystery to be solved, in Karen Houseman's "Bake My Day". Illustration, David Young.
Sunny Summer Reading
Recently-retired Myrna and Dave are keen to leave lists behind, in Beth Watson's "Take Some Time". Illustrated by Helen Welsh.
Henrietta loves her colourful little garden, but is it good enough to win a prize? "An English Country Garden" is by Lynne Carroll, and illustrated by Tracy Fennell.
There's "Pier Pressure" in our next story, when happily-married Paul and Val reminisce about a life-changing confession. By Julie Goodall.
In Alison Carter's "Lovely Boating Weather", there's matchmaking afoot – after all, what could be more romantic than a luxury cruise? Artwork, Kirk Houston.
Summer is gutted to lose her job, but when one door closes, another opens, in Julia Douglas' "Do It Yourself". Illustration, Sarah Holliday.
Eight-Page Cosy Crime
Our eight-page crime mystery is next. Hen party member, Sam, and bartender, Dom, get married in Vegas – but then the bride-to-be's stepmother dies in mysterious circumstances. What's going on? Alison Carter's "What Happens In Vegas" features artwork from David Young.
Stories Set In The Present, And The Past
Chloe returns from Greece with romance on her mind, in Gabrielle Mullarkey's "Dinner With Nikos". Artwork, Sarah Holliday.
Louise McIvor's "In The Country" is set in 1980, where a young lass finds it hard to fit in to a new life in the countryside. Artwork, Martin Baines.
"Teething Troubles" are afoot when one babysitter fears she's bitten off more than she can chew! By Alison Hilbourne. Illustration, Mandy Dixon.
Having a shoe clear-out brings back happy memories, in Alison Carter's "Feet First!"…
…while an over-protective mum just wants to keep her daughter safe, in Stefania Hartley's "Keeping It Cool". Artwork, Ruth Blair.
Welcome To A Debut Author
We're in 1862 for our next story by Helen Yuretich – "A New Frontier", and Mary-Jane must find a way to make a living in a goldfield boom-town. Artwork, Sarah Holliday.
Mum, Charlene, wants to tell "The Whole Truth" in Gabrielle Mullarkey's short story, with artwork from Sarah Holliday…
…while it's the night before the wedding, in Teresa Ashby's "Father Of The Bride". Illustration, Mandy Dixon.
We have a story by a debut author, next – a warm welcome to Graeme Edwards! Alison is moving to be closer to her daughter, but she can't take her beloved garden with her. Or can she? "How Does Your Garden Grow" features artwork from Ruth Blair.
Our final story is by Becca Robin – "Changes At Clover Cottage", where a renovation dream is turning into a nightmare! Illustration by Martin Baines.