Fiction Sneak Peek: February 12, 2022 Issue
---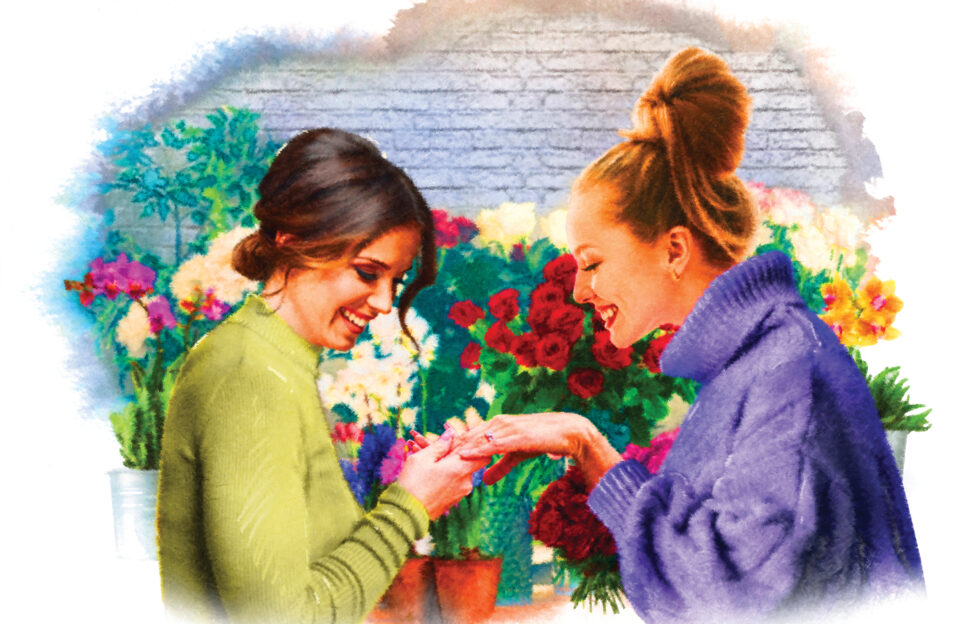 Illustration by Mandy Dixon.
Happy Valentine's! Love is in the air in our February 12, 2022 issue.
Short stories
When Della receives a mystery Valentine, she's at a loss to know who could have sent it. Unless . . . Set in the 1890s, "A Message From The Heart" is written for us by Pamela Kavanagh, and illustrated by Ged Fay.
"Just The Job" by Eirin Thompson is next, and with no Valentine's Day plans, spending Valentine's in the office doesn't seem like such a bad idea! Illustrated by Jim Dewar.
A mum seems to have 'gone into herself' after the loss of her husband. A solution is found, in "Poetry In Motion", by Gabrielle Mullarkey. With a Shutterstock illustration.
One mum finds it hard to let go, in "A Mother's Love", by Deborah Tomlin. Illustrated by Shutterstock.
We return to Hopewell for our next story, "The Florist's Engagement", by Rebecca Holmes. It's a time of change for Laura . . . featuring artwork by Mandy Dixon (above).
Beth's granddaughter, Daisy, has a quick temper – just as Beth once did. Daisy's argument with a friend brings back Beth's memories of a breach that's too old to heal. Or is it? "Forgive And Forget" by Alison Wassell is illustrated by Shutterstock.
Singleton Euan loves his trains. But will love come down the line? Find out in "The Valentine's Express" by Becca Robin. Illustrated by Manon Gandiolle.
Serials
In Part Four of "Return To Rosecot", Phoebe worries about her brother. Will he be well enough to join in the activities? Penny Alexander's six-part serial is illustrated by Philip Crabb.
With a decision made about the future, Lydia is ready to celebrate with friends old and new, in the final part of Beth Watson's "Follow My Lead". Artwork by Kirk Houston.
A new serial begins next week.
Series
Love is on the cards at Dewar's newsagents. "Read All About It" is by Eirin Thompson.
It's time for Mike to come clean to Anna, in Glenda Young's "Riverside".
---
If our February 12, 2022 issue has left you wanting more, don't worry! Our new issue is in shops soon.
Did you know that subscribers receive their issues early every week? Click here for more information on subscribing to the "Friend" today. At the moment, your first 13 issues will only cost £8!
And speaking of bargains, why not take out a digital subscription, and read your favourite magazine on your tablet, smartphone or computer.