Shallot And Chicken Biryani
---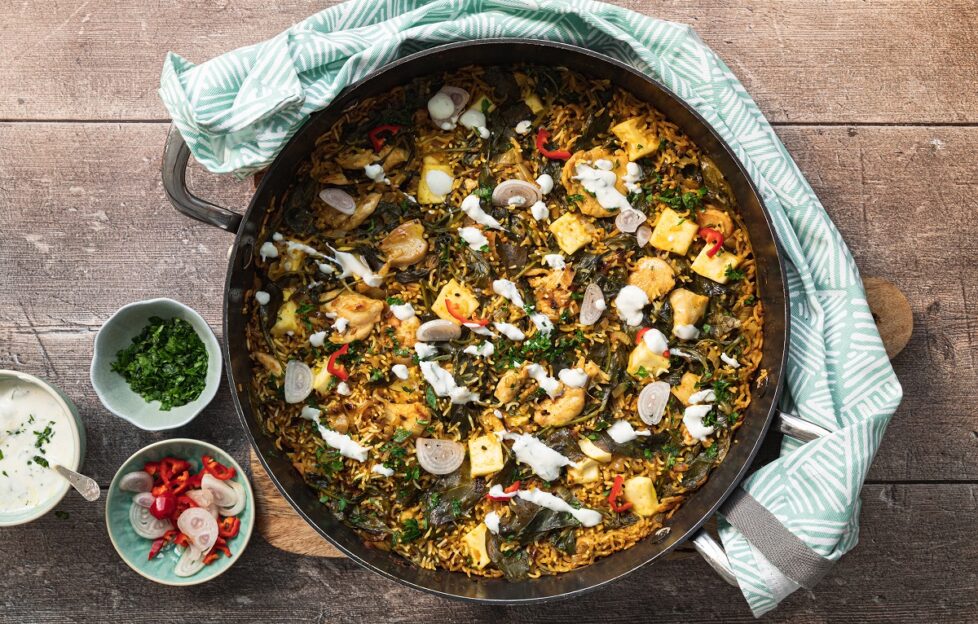 Image courtesy of UK Shallots
Ingredients
200 g (7 oz) basmati rice
400 g (14 oz) chicken breast or thigh meat, cut into small pieces
4 cloves garlic, crushed
1 tbs ginger, grated
Salt and freshly ground black pepper, to taste
1 tbs rapeseed oil
2 large echalion shallots, chopped
1 tbs cumin
1 tbs nigella seeds
1 tbs Madras spice paste
12 curry leaves
400 ml (14 fl oz) chicken stock
200 g (7 oz) spinach
100 g (3½ oz) paneer, chopped
To Serve: chopped fresh coriander; sliced red chilli; plain yoghurt.
Recipe courtesy of UK Shallots.
This tasty Shallot And Chicken Biryani recipe serves four.
Give it a try the next time the family are all sitting down for dinner. You won't regret it!
Method:
Cover the rice in water, give it a stir, strain it and cover with water again.
Mix the chicken in a bowl with the garlic, ginger and a pinch of salt. Cover, and put in the fridge for an hour if you have time.
Heat the oil in a pan that has a lid and can go in the oven. Fry the chicken for 5 minutes until starting to brown and then remove to a plate.
Add the shallots, cumin and nigella seeds to the hot pan, and cook for 5 minutes until starting to soften. Stir in the curry paste then cook for 1 minute more. Return the chicken to the pan.
Pre-heat oven to 180 deg. C., 350 deg. F., Gas Mark 4.
Drain the rice, washing it with clean water, add it to the pan along with the curry leaves, then pour over the stock and bring to the boil.
Add the spinach to the pan and put the lid on for a few minutes until it has wilted. Stir in the paneer and some seasoning. Cover the pan with foil, then put the lid on top.
Cook in the pre-heated oven for 20 minutes, then leave to stand, covered, for 10 minutes.
Serve with the coriander, chillies and yoghurt on the side
Enjoy!
---
Don't worry if you're still hungry, there are plenty of other recipes on our Cookery pages. If it's rice dishes you're after, why not try this Thai Chicken And Asparagus Curry With Turmeric Rice, or these Baked Peppers With Rice, Chicken And Walnuts?
And if that's not enough, we publish great recipes every week in "The People's Friend". Subscribe today, and your issues will arrive on your doorstep every week. Before they make it to the shops!