Sunny Seville Chocolate Orange Cupcakes
---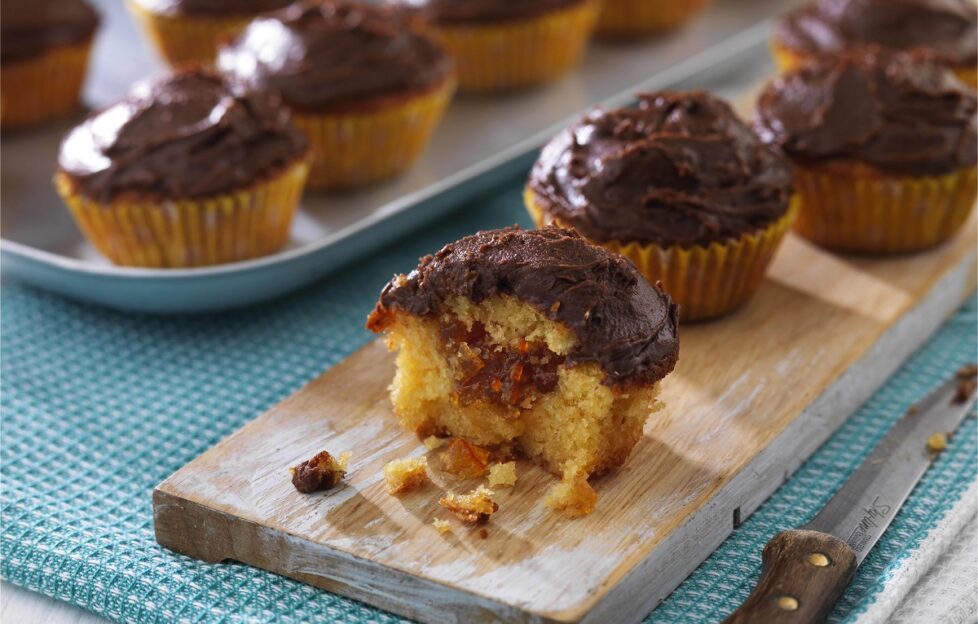 Ingredients
100 g (3½ oz) butter
50 g (1¾ oz) caster sugar
2 eggs, beaten
100 g (3½ oz) self-raising flour
125 g (4½ oz) Duerr's Fine Cut Sunny Seville Orange Marmalade
½ tsp baking powder
For the Filling:
100 g (3½ oz) Duerr's Fine Cut Sunny Seville Orange Marmalade
For the Icing:
50 g (1¾ oz) butter
100 g (3½ oz) Duerr's Fine Cut Sunny Seville Orange Marmalade
250 g (9 oz) icing sugar, sifted
30 g (1 oz) cocoa powder, sifted
2-3 tbs milk, if needed
Recipe and image courtesy of Duerr's.
Jaffa Cake fans will love these tempting Sunny Seville Chocolate Orange Cupcakes!
This recipe makes 12 cakes.
Pre-heat the oven to 190 deg. C., 375 deg. F., Gas Mark 5. Fill a muffin tray with paper cases.
Using an electric hand whisk, cream the butter and sugar until pale then add the egg, a little at a time, whisking in between each addition. After you have added about half of the egg, add a spoonful of the flour to stop the mixture from curdling. Once all the egg is incorporated, add the marmalade and stir with a metal spoon, then fold in the flour and baking powder.
Divide the mixture between the paper cases and bake for 10 to 15 minutes until golden.
Allow to cool then scoop out a piece from the top of each cake, place a teaspoonful of marmalade in the hollow and replace the tops.
To make the icing, melt the butter and marmalade in a pan over low heat or in the microwave, then stir in the icing sugar and cocoa powder and mix well – adding the milk if the mixture is a little stiff. Smooth the icing over the top of the cakes using a butter knife or palette knife.
---
Looking for some more tea-time cake options? Give this Beetroot And Chocolate Cake a go, or this delicious Banana And Coffee Loaf!
And there are plenty more recipes of all shapes and sizes on our Cookery pages, and in every of our weekly magazine!