Leftovers Frittata
---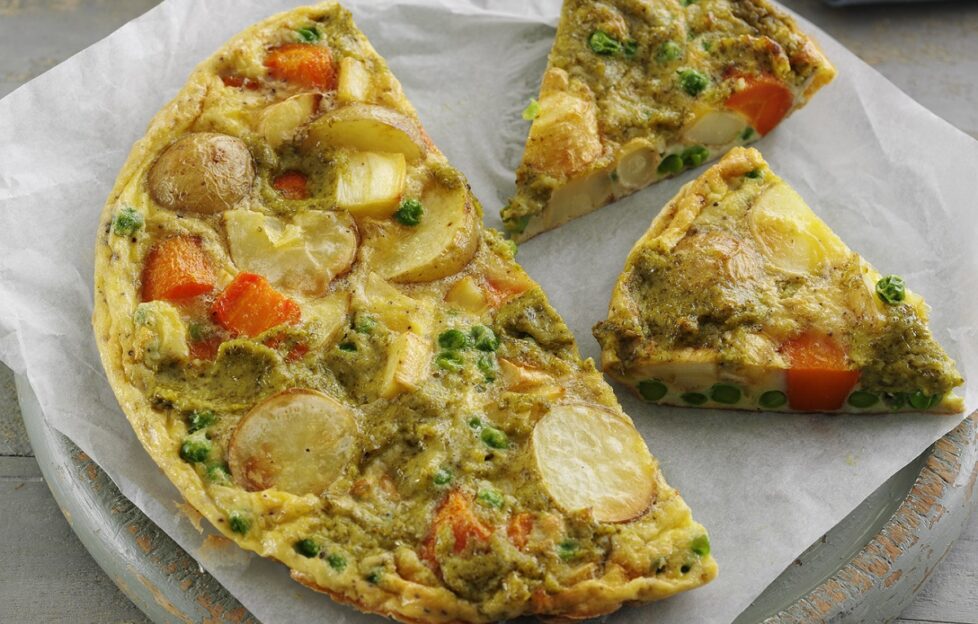 Ingredients
1 tbs sunflower oil
400 g (14 oz) mixed leftover roasted veg such as potatoes, carrots, parsnips, squash
125 g (4½ oz) frozen peas, thawed
6 medium British Lion eggs, beaten
Salt and freshly ground black pepper, to taste
4 tbs pesto from a jar, plus extra to serve
To Serve: salad, optional
Recipe and image courtesy of British Lion Eggs.
There's nothing like a Leftovers Frittata for a tasty lunch with added eco brownie points! And it's even more satisfying to rustle up during Food Waste Action Week! This recipe takes just over half an hour and serves three.
1 Heat the oven to 190 deg. C., 375 deg. F., Gas Mark 5.
2 Heat the oil in a medium non-stick, ovenproof frying-pan. Add the leftover veg and cook over a medium heat for 3 minutes until heated through.
3 Add the peas and eggs, season well and cook, stirring for 1 minute until the eggs are starting to set. Remove from the heat and dollop small spoonfuls of the pesto on top. Bake in the pre-heated oven for about 15 to 20 minutes until just set in the middle. Leave for 5 minutes before slicing.
4 Serve with extra pesto or salad.
---
The environmental impact of food waste in the UK is astonishing, but by following the handy campaign tips to plan our buying, storing and cooking food we can all help to reduce those effects.
If you've enjoyed the Leftovers Frittata, why not try some more of our waste-tackling recipes? Leftover roast chicken makes a tasty meal in Baked Peppers with Rice Chicken and Walnuts, or give past-their-best bananas a new purpose in this delicious Banana and Coffee Loaf!