Features Sneak Peek: April 30, 2022 Issue
---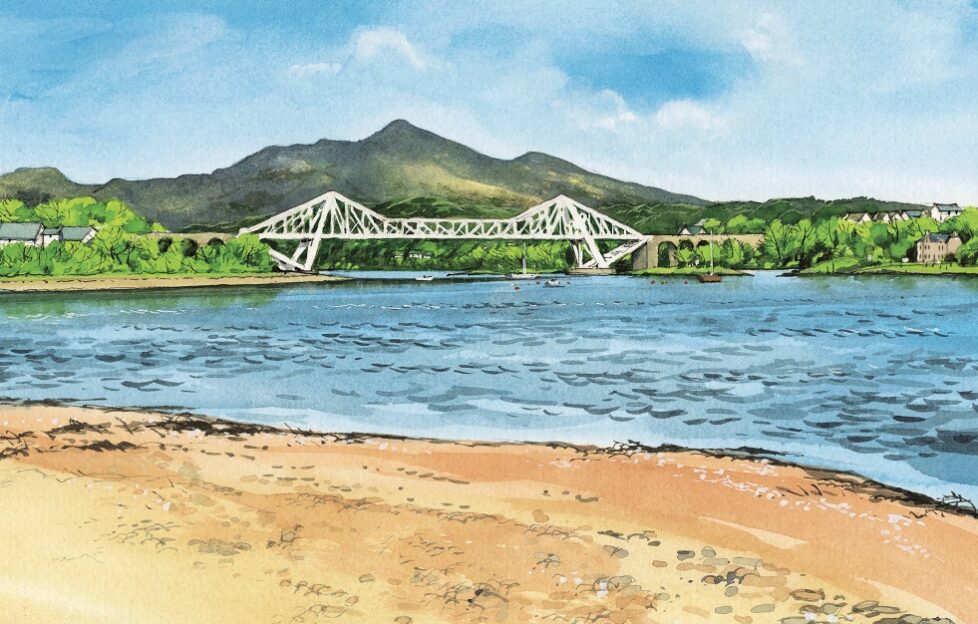 Illustration by DC Thomson Ltd.
Willie Shand enjoys magnificent views and enchanting waterfalls in Beinn Lora, in the April 30, 2022 issue of "The People's Friend".
Beinn Lora is a prominent wee hill rising north of Connel on the north side of Loch Etive. Taking us across these narrows is the impressive Connel Bridge that almost looks like a miniature of the giant Forth Rail Bridge. Unsurprisingly, they were designed by the same engineer. It's from this bridge that you'll catch the best view of the Falls of Lora.
We'll also visit the fine sandy beach of Tralee. We've picked a fabulous day for it!
What better day to admire the views from the Beinn? It's not easy going but the summit lures us on with its crags rising above a sea of purple heather. It's a lovely part of the world.
Fifty Years Of Newsround
In its heyday, "John Craven's Newsround" attracted five and a half million viewers, with TV critic Mark Lawson calling it "one of the glorious success stories of British television . . . a 10-minute mix of global disaster and dancing dolphins."
After 15 years, the name was shortened to "Newsround", and it's still bringing pre-teens the news half a century on. First aired in April, 1972, the very first item was a report on ospreys in Scotland.
Researchers had said children were bored with the news and tired of being told to keep quiet when it was on. The programme was given six weeks to see how well it was received. With the show still on air to this date, it was obviously a successful experiment.
In the magazine, Douglas McPherson celebrates half a century of Britain's first news programme for children.
The Leith Collective
"Upcycling and recycling aren't new ideas. Previous generations used to make rag rugs and cut buttons off old clothes. We need to do things like that again," says Sara Thomson.
Sara's Leith Collective gift shops sell upcycled and recycled products and are completely free of single-use plastics.
In 2021, these sustainable practices won Sara a Points of Light Award from the Prime Minister and she was asked to speak at COP26.
As Sara says, "We can't reverse the damage that's been done, but if we all make small changes there is a way forward. It's especially important that young people learn to live sustainably.
Sally Jenkins had a chat with Sara to find out more.
Timothy Dickson's Space Walk
Young Timothy Dickson didn't have the best start in life health-wise. He was born with Ehlers-Danlos syndrome, a group of disorders affecting the connective tissues supporting skin, bones, blood vessels and other organs. It was also clear that he was autistic. For almost five years, the family never had a full nights' sleep.
Charity New Life were a godsend. Within forty-eight hours of contact, an emergency pod was on the way to Timothy. Timothy's pod is a safe space for him to sleep that zips up and makes him feel relaxed and secure.
Timothy was so grateful that he wanted to raise money to thank the charity that helped him.
He initially wanted to walk to the moon until his mum, Laura, explained it was a bit far! He said space was one hundred kilometres away so he made that his target. He's since raised more than £3,000 and is planning to walk the distance to the International Space Station!
Read more about Timothy in the magazine.
Elsewhere in the April 30, 2022 issue, we have a collection of delicious brunch recipes. Plus we have a knitting pattern to make a classic cardigan.
We hope you enjoy it. Let us know what you think.
---
Has this sneak peek at our April 30, 2022 issue encouraged you to subscribe to the "Friend"? Click here. If you do, your "Friend" will come straight to your doorstep! 
You can also take out a digital subscription, meaning your issue will come straight to your computer, tablet or phone! And it's great value for money. Click here for a sneak peek at that!