Features Sneak Peek: May 21, 2022 Issue
---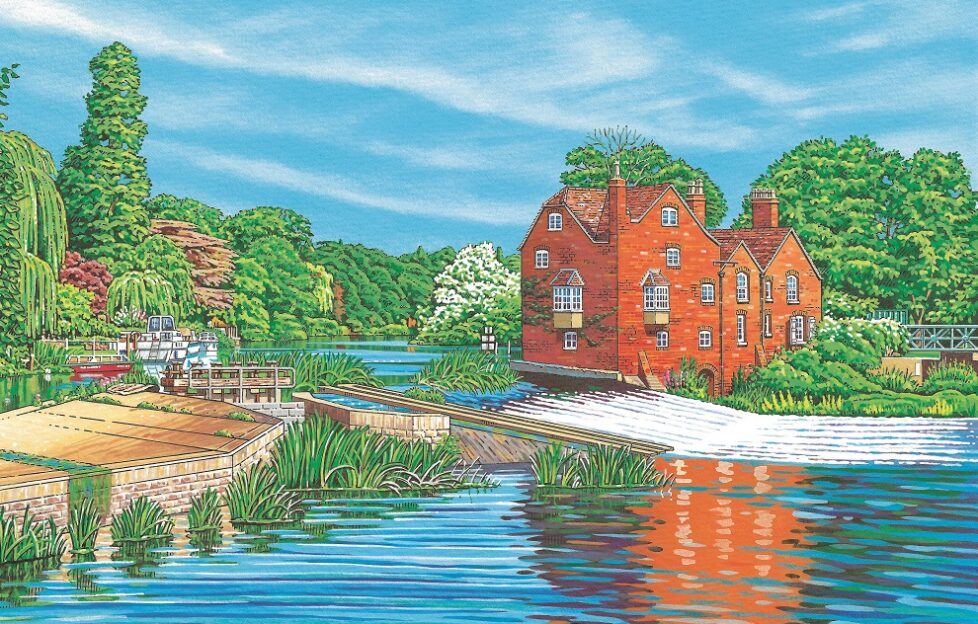 Illustration by DC Thomson Ltd.
Neil McAllister takes in plenty of history in the Worcestershire town of Evesham, in the May 21, 2022 issue of "The People's Friend".
If Kent is the garden of England, then Hereford and Worcester are its orchard. An ideal time to visit is when trees are in blossom and bees on pollination service ensure the area's cider makers stay busy.
Schools used to close during harvest time to allow hundreds of children to pick the fruit. In the 1980s, a short blossom drive was planned through through the Vale of Evesham, which has grown to include new orchards and the clutch of lovely villages where the River Avon has left the land perfect for horticulture.
Pershore was named a "Gem Town" in the 1960s. Half a century on, it remains one of Britain's loveliest towns, where streets are lined with glorious historic buildings. Pershore is worth a visit for these buildings alone. However, it's also worth a visit to see the remains of a monastic abbey.
Neil wants to take us to the Market Square, too. There you'll find the magnificent timber Round House. Guaranteed to have you reaching for your camera, it is rather distinctive.
The Vale is a green delight – a rural wonderland of walks, villages and some of England's prettiest towns.
Knitted Sandringham Estate
During lockdown, Margaret Seaman picked up her knitting needles and decided to knit an 18-feet-long model of Sandringham Estate, the Queen's beloved Norfolk home.
Margaret, 92, made it a mission to raise funds for three local NHS hospitals.
After two years of knitting for 10 to 12 hours almost every day, Margaret completed her model of Sandringham Estate, along with the royal residence's church, stables and museum.
The great-great-grandmother even knitted trees, flowers, visitors, staff and members of the Royal Family.
Janey Swanson finds out more in the magazine.
Treasure Your River
There's nothing like an afternoon messing about on (or near) a river. But the last thing anyone wants to see when visiting a natural environment is a man-made mess.
Sadly, the jarring sight of a plastic cup or discarded bag bobbing on the water or cluttering the riverbank is becoming a common sight on UK waterways.
As well as being unsightly, litter in our rivers and streams adds to the problem of ocean plastic waste – in fact, 80% of the eight million tonnes of plastic that's dumped into the sea each year makes its way to this final destination from waterways.
Treasure Your River was formed in 2021 to tackle the issue nationwide and raise awareness in a fun and engaging way.
Gillian Harvey chats to Jack Hodgkiss to find out more.
Amelia Earhart
On May 21, 1932, thirty-four year old Amelia Earhart became the first woman to fly solo across the Atlantic Ocean.
The courageous pilot set off alone from Newfoundland, Canada, and approximately 15 hours later landed in a farmer's field near Londonderry in Northern Ireland – landing herself a place in the history books.
Five years later, she was on target to achieve another accolade as the first female to circumnavigate the globe. Then disaster struck.
She and navigator Fred Noonan lost contact with support on the ground. Their plane disappeared somewhere over the Pacific Ocean and the wreckage was never found.
On the ninetieth anniversary of Amelia Earhart flying into the record books, Lorna Cowan finds out more.
Elsewhere in the May 21, 2022 issue, we have a collection of delicious vegetable recipes. Plus we have a crochet pattern to make a two-tone gilet.
We hope you enjoy it. Let us know what you think.
---
Has this sneak peek at our May 21, 2022 issue encouraged you to subscribe to the "Friend"? Click here. If you do, your "Friend" will come straight to your doorstep! 
You can also take out a digital subscription, meaning your issue will come straight to your computer, tablet or phone! And it's great value for money. Click here for a sneak peek at that!