Vegetarian Picnic Recipe: California Walnut and Roasted Carrot Hummus
---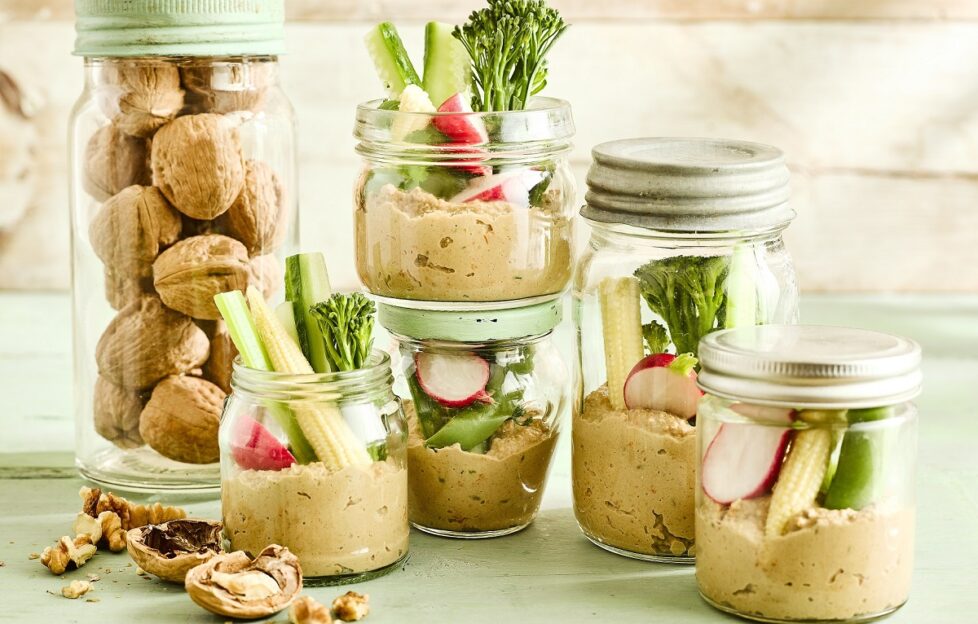 Provided by California Walnuts.
Ingredients
200 g (7 oz) carrots, cut into sticks
1 tsp cumin seeds
1 tbs extra virgin olive oil, plus extra to drizzle
1 x 400 g tin chickpeas, drained
2 tbs tahini
Juice of 1 lemon
80 g (3 oz) California walnuts, toasted
Salt and freshly ground black pepper, to taste
Handful green olives, chopped roughly
2 slices of preserved lemons, sliced thinly
Small bunch coriander, chopped roughly or torn
To Serve: sliced or baby raw vegetables of choice.
Recipe and image courtesy of California Walnuts.
Packed into jars, this California Walnut and Roasted Carrot Hummus makes a great, protein-packed vegetarian picnic recipe for this picnic week. With extra vegetables for dipping, it's healthy, too!
Serves: 4
Pre-heat the oven to 180 deg. C., 350 deg. F., Gas Mark 4.
Place the carrots on to a small roasting tray and sprinkle over the cumin and olive oil. Roast in the oven for 25 to 30 minutes, or until tinged golden.
Place the roasted carrots, chickpeas, tahini, lemon juice and 50 g (1¾ oz) of the California walnuts into a food processor and blitz until smooth, adding in a splash of water if you need to loosen the mixture a little. Season to taste with salt and pepper.
Spoon the hummus into your chosen container, then top with the olives, preserved lemon slices, coriander and leftover walnuts. Drizzle over some extra olive oil, if liked. Serve with assorted raw vegetables for dipping.
Picnics have always been a popular summer treat. Have a look and see what "Friend" readers were packing in their baskets back in 1916! And why not another vegetarian picnic recipe with our delicious Picnic Week: Roasted Vegetable Brioche Baguette and Picnic Week: Cherry Bakewell Flapjacks to make a real feast?
Send it in!
The People's Friend team would love to see your creations. You can send them to peoplesfriend@dctmedia.co.uk for a chance to be shared on social media or in the magazine!
---
For more recipes, visit our Cookery section. Or you can subscribe to "The People's Friend" here, to make sure you'll never miss another one of our great patterns and projects.