Features Sneak Peek: Special 230
---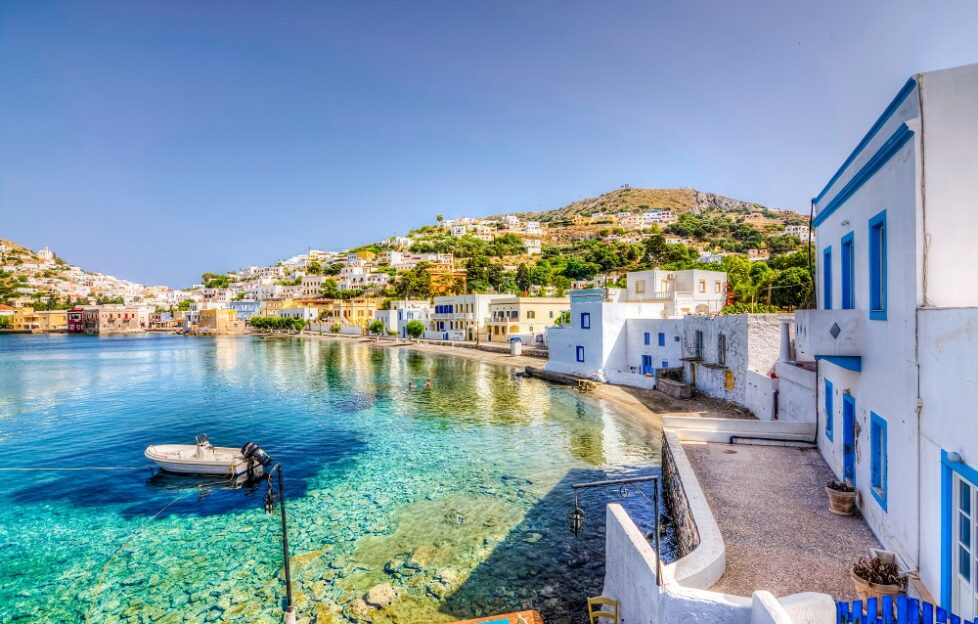 Photograph by Shutterstock.
We have a real treat in store with Special 230 now on sale.
Gorgeous Greece
Join Dianne Boardman as she embarks on a group trip to a couple of the quieter Dodecanese Greek islands. Our arrival by ferry is a memorable one, approaching the island in the mellow sunshine with a rainbow arcing our wake spray.
All is barren and brown – until we round a headland and come across 18th-century Venetian houses in shades of creams. They are climbing up the rocks of what must be one of the most beautiful harbours in the world.
We'll go on a bus tour to the harbour town of Yialos. It's bustling in a cheerful way, with stalls selling sponges, soaps, herbs and baskets. During our stay we'll also travel by bus to undertake the Symi challenge of climbing the hundreds of steps known as the Kali Strata.
We'll need lots of breathing stops, but the views of old merchants' houses, their ornate iron balconies choked with bougainvillea and backdropped against the glittering sea, make the climb worthwhile.
These stunning views aren't the only beautiful thing on these Greek islands as Dianne will reveal in the magazine.
By The Seashore
One of the hardest parts for Polly Pullar living in Highland Perthshire is that she's as far from the sea as it's possible to be in this country.
Her little farm is right in the very centre of Scotland, and she misses the sea very much, having spent much of her childhood in close proximity to the coast.
There's always so much to discover on the shore: fabulous new shells and egg cases we might never have seen before, weird and wonderful creatures in rock pools, and a wealth of different salt-tolerant wildflowers.
In Special 230, Polly rejoices in the fascinating array of life that can be found along Scotland's coastline.
Community RePaint
Research done in Leeds found that the average household has 17 unopened tins of paint tucked away somewhere.
Community RePaint, a UK-wide network of paint-reuse schemes wanted to rescue paints that might otherwise go off.
For twenty-five years, the project has been collecting leftover paint and distributing it to community groups, sports clubs, charities, theatre groups, arts groups, schools, nurseries and homes where money's tight.
In Special 230, Janey Swanson talks to Martin Pearse about a project bringing colour to people's lives by saving leftover paint.
City Of Stories
The Story Museum in Oxford has had a page-turning 20-year journey, created by Kim Pickin and a small group of enthusiasts.
Kim's kitchen became her "imaginarium", a cauldron of ideas for a museum where stories could be brought to life.
In 2003, it was founded as a virtual museum but opened in its current premises in 2009.
Join Pat Coulter as she visits The Story Museum and takes a trip on the Story Craft, a film theatre experience, for a voyage through storyland. During our trip we'll travel through such fiction as "The Time Machine" and "Beowulf" and discover more about authors including Lewis Carroll.
Other parts of the visit include an immersive audio trail. We'll also go to the Enchanted Library. Pushing through a wardrobe of fur coats, we will enter Narnia and then later find ourselves on Poohsticks Bridge in the pawprints of A.A. Milne's famous bear, Winnie The Pooh.
Elsewhere in Special 230, we have a collection of delicious vegan baking recipes. Plus we have knitting and crochet patterns to make a cosy knee rug.
We hope you enjoy it. Let us know what you think.
---
Remember, you can subscribe to make sure you never miss another "Friend" Special.
In fact, we'll have them delivered straight to your door! Click here for more information.