Fiction Preview: Special 234 – Our Christmas Special
---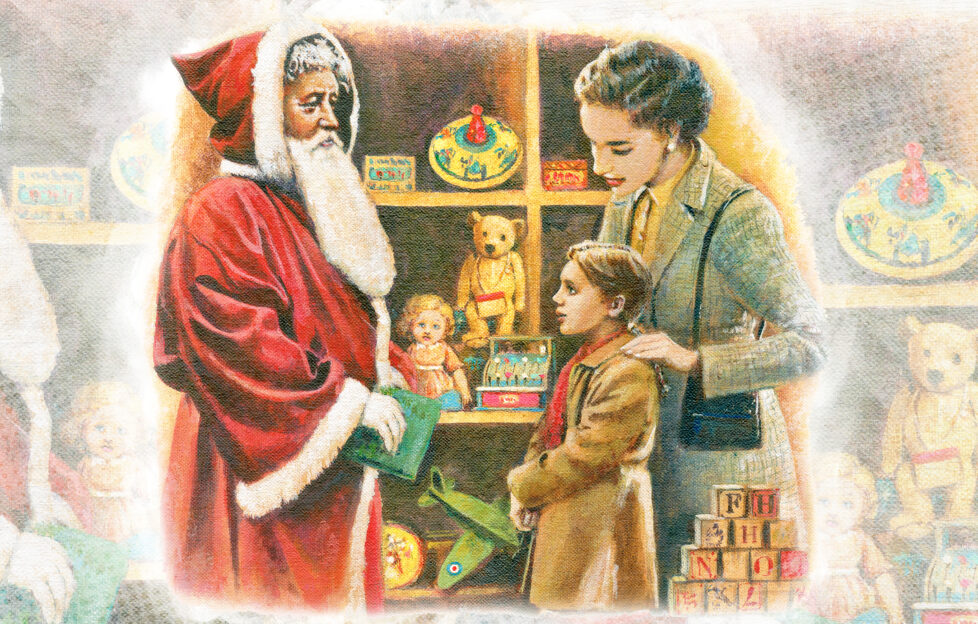 Artwork: Michael Thomas
Welcome to our preview of the festive fiction in Special 234 – our Christmas Special.
Full Of Festive Reading
Our opening story is "The Berry Bough", set in 1919 and the aftermath of the First World War. When parlour maid, Nancy, discovers a burned book of poetry, what can it mean? By Becca Robin, with an illustration from David Young.
A mystery benefactor is sending edible Christmas gifts to one bemused family, in Stefania Hartley's "All You Can Eat".
A family 'Secret Santa' has been arranged, but someone's feeling left out. Alison Wassell's "One Of The Family" features artwork from Ged Fay.
Friends have a chuckle about the 'practical' Christmas gifts they've received from their other halves, in "Present And Correct", by debut author, Mary Ross.
We're in 1973 for our next story, and one little girl wants to collect stamps for the Blue Peter Appeal. "The Great Stampede" is by Eirin Thompson, and illustrated by Amanda Dixon.
Twenty Brand-New Christmas Stories
Louisa has left an unhappy marriage, and Christmas looks bleak – but there are always "Seeds Of Hope". Alyson Hilbourne's short story is illustrated by Sarah Holliday.
A quirky aunt plans a knitted Christmas, in "Sadie's Surprise". By Beth Watson.
Jenny has lost sight of the meaning of Christmas, but a visit to her childhood home sets her on the right path. "Back To Carnsmerry Close" by debut author, Teresa Barrett, is illustrated by Kirk Houston.
A little girl's 'kindness' project has unexpected results, in Jacqui Cooper's "One Good Turn". Artwork from Pat Gregory.
A cider-maker trades places with a lord, in Kitty-Lydia Dye's "A Mile In Your Shoes", set in 1817. Illustration from Helen Welsh.
Three Debut Authors
There's a "White Christmas" with a difference, in our next story, by Beth Watson…
…while in Teresa Ashby's "Santa, Maybe?", one woman tries to convince her brother to fill in for Father Christmas! Artwork by Kirk Houston.
In Becca Robin's "Make Do And Mend", a teenager's sustainable Christmas means her grandparents need to rethink their ideas about gifting. Artwork by Martin Baines.
We go back to the 1950s for our next story, by Maggie Cobbett. The Petersons don't have much, but they're determined to make it a happy Christmas for their three children. "It's The Little Things" features artwork by Michael Thomas (above).
A Christmas-mad family get ready for a full house, in our next story, Christine Sutton's "Crackers!".  Artwork from Helen Welsh.
The True Meaning Of Christmas
A lost delivery slot at the supermarket means a dash before dawn, in Eirin Thompson's "Supermarket Sweep"….
…while in Marie Penman's "The Star Of The Show", one mum's dream is to see her daughter star in the school Nativity. With an illustration by Manon Gandiolle.
A kind Christmas gesture is the beginning of a lifelong friendship, in Sharon Haston's "The True Meaning".
Rachel tries to coax her teenage daughter out of her room to join in some Christmas prep, in "All Together Now". By debut author, Julie Silcox.
Our final Christmas story of this Special is Alison Carter's "A Token Of Love". Set in 1531, it's the story of two women and how a shared sadness at Christmas leads to hope for the future, and friendship. Illustrated by Ruth Blair.
Season's greetings!